New PCIe drive chip lives life in the flash lane
Marvell and OCZ go ARM in arm into nippy storage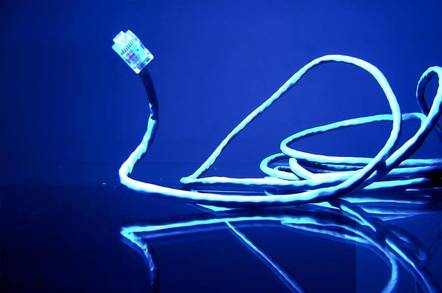 Every day widespread industry adoption of PCIe flash drives comes closer - and now storage controller supplier Marvell is launching modules to make building these little beasts a lot easier.
Sticking solid-state drives (SSDs) directly onto a server or workstation's PCIe bus reduces data access latency markedly below that of spinning disk and so accelerates random I/O-bound server applications. So far the PCIe flash arena has been built up by Fusion-io followed by host of recent entrants, such as Kaminario, Micron, STEC and TMS to name just a few.
Marvell's 88NV9145 ARM-based controller component – jointly developed with OCZ – is available now, and opens the door for suppliers to build PCIe flash drives with up to 1.4 million read IOPS. A single 88NV9145 (known as a 9145) module offers up to 128GB NAND capacity; 93,000 4K random read IOPS; 70,000 random write IOPS; less than 50 microsecond latency; 128 or 256-bit AES encryption; and needs less than 1 watt of power. It can support both single level cell and multi-level cell flash and has an external Double Data Rate (DDR) interface and four NAND flash channels with up to four Chip Selects (CSs) per channel.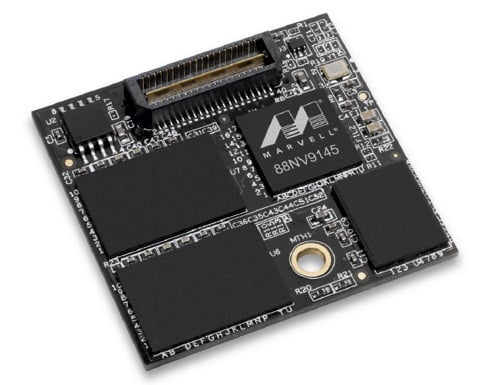 Marvell 88NV9145
A PCIe Gen2 X8 switch can have many 9145 flash modules attached to it, so Marvell customers can build capacity and/or performance-optimised product ranges with incremental scaling for different market segments.
A 32-port PCIe switch with sixteen 9145s can do 1.4 million random read IOPS and 1.04 million random write IOPS; this is near-linear scalability from a single module.
For comparison, a 1.2TB Fusion-io ioDrive 2 Duo does 503,000 4K random read IOPS. A TMS RamSan-70 with 900GB capacity does around 330,000 sustained 4K random read IOPS and more than 600,000 in a burst. This means the 88NV9145 modules will enable Marvell OEMs, like OCZ, to build Fusion-io-beating PCIe flash drives if they sign up to take the 9145 module. At least until Fusion's ACM software with its 16X speed up effect gets delivered, and it's expected in April.
Here is Ryan Petersen, CEO of OCZ Technology: "OCZ is excited to work with Marvell on the native PCIe to NAND flash Kilimanjaro platform leveraging 88NV9145 building blocks. We will utilise this new jointly developed platform on our ... Z-Drive R5 PCIe SSD solution to enable breakthrough I/O performance for the complete spectrum of enterprise-class applications such as OLTP database, webservers, virtualisation, big data and collaboration."
The 9145 modules are integrated with OCZ's own Indilinx controller technology.
Performance numbers for the Z-DRive R5 aren't provided, but an astounding figure of 3.2 million IOPS has been mentioned. It supports up to 12TB of capacity and uses IMFT 20nm MLC (multi-level cell) flash with SLC and eMLC options. GA will be some time in the next six months.
Marvell makes the point that several other PCIe flash controllers are FPGA-based, meaning they are large and need need more power than Marvell's ASIC-based approach. Marvell's approach, according to its storage business group product marketing director, Shawn Kung: "ASIC technologies are where the game is going to be won. [They offer] higher performance and lower cost than FPGAs. ... [The 9145] is the first native PCIe controller that's openly available. … PCIe SSDs will have to leverage ASIC technologies to support mass adoption."
David Raun, veep for marketing and business development at PLX Technology, said: "By enabling customers to build native PCIe SSDs without any SAS/SATA protocol overhead, the 88NV9145 with PLX ExpressLane switches represent the future of SSD market growth."
The 9145 is in mass production now and Kung said several potential customers are in "deep evaluation."
This 9145 move by Marvell supports the idea that PCIe flash is going to become a pretty standard server fitting in future, meaning, El Reg thinks, Dell, Fujitsu, HP and IBM, and also Cisco, will all eventually adopt the technology. ®
Sponsored: What next after Netezza?