iPhone demand strong months after 4S release
Smartphone buying survey shows Samsung on the rise

Apple and Samsung are rapidly establishing themselves as the two key smartphone sellers - in the States at least.
So says market watcher ChangeWave Research after taking a look at the results of the latest in a regular line of 4000-buyer polls it conducts.
Its most recent figures, produced in December 2011, show that 13 per cent of smartphone buyers who plan to avail themselves of one during Q1 2012 want a Samsung handset, while 54 per cent want an iPhone.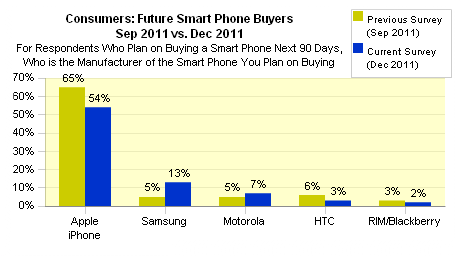 Source: ChangeWave Research
That's not a resounding vote for the Apple product: in September 2011, the last time ChangeWave asked, some 65 per cent of punters said they planned to buy an iPhone.
However, ChangeWave said that there's always a survey-on-survey decline in iPhone demand, especially after a major launch. Interest in the Apple handset plunges after the early adopters have snapped up their new phones.
Except, this time. "Apple has never dominated smartphone planned buying to this extent more than two months after a major new release," ChangeWave noted.
Samsung, by contrast, showed its share of "smartphone planned buying" rising from just five per cent in September 2011 to the aforementioned 13 per cent.
Motorola was up to, by a couple of percentage points, but its share is still in single figures: seven per cent. So is HTC's, but its share of planned buying fell over the comparison period, from six per cent to just three.
Which shows why HTC's results have been poor of late.
Ditto RIM's. Its share of planned buying, based on the ChangeWave numbers, fell from three per cent in September 2011 to two per cent in December 2011.
RIM fared very poorly when smartphone users were asked how satisfied they were with their latest phones: only 22 per cent of BlackBerry users said they were "very satisfied" with their phone, according to ChangeWave.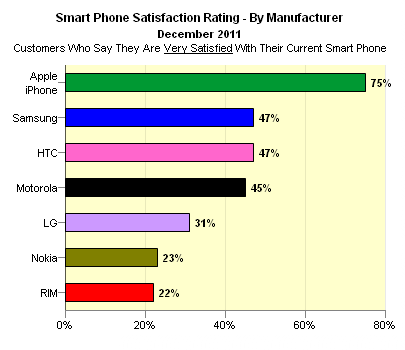 Source: ChangeWave Research
Compare that to the 75 per cent of iPhone users who expressed the highest level of approval.
Samsung and HTC both achieved 47 per cent, which suggests HTC's recent decline is more to do with the sheer volume of new handsets Samsung is throwing at the market than any failings on HTC's part. Motorola scored a 45 per cent satisfaction rating.
Nokia, incidentally, scored 23 per cent, putting it on a par with RIM. These two really have some work to do on their handsets. ®