Ultrabook, tablet shipments to surge
Netbook, notebook to bear the cost
Market watcher DisplaySearch has forecast Ultrabook shipments of around 180m units in 2017 with a steep upward curve through previous years.
It hasn't entirely been turned by the Intel Kool Aid, mind. Notebook shipments as a whole will hit, it reckons, 426.6m units that year, so the Ultrabook category will have nabbed just 42.2 per cent of the laptop market.
Tablets will not prove to be a fad, racking up shipments of 380.7m units in 2017, according to DisplaySearch's figures, or 46.6 per cent of the overall mobile PC market.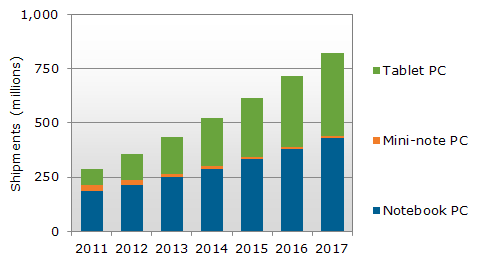 Source: DisplaySearch
Compare that to 2011, when some 72.7m fondleslabs shipped, the researcher said, accounting for 25.5 per cent of the year's 285.4m mobile PC shipments. The tablet unit total is 256 per cent higher than 2010's figure; the overall mobile PC market was up 31 per cent on 2010.
Notebook shipments in 2011 are now expected to reach 187.5m units, DisplaySearch said, up 12 per cent year on year.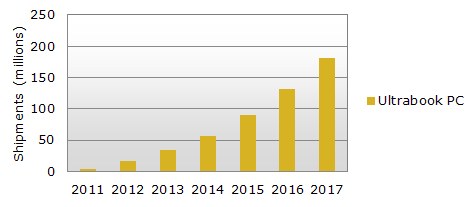 Source: DisplaySearch
Netbooks haven't taken the beating some observers thought the category might, with 2011 shipments set to hit 25.2m units, up 20 per cent year on year.
That said, it's clear from DisplaySearch's figures that netbook unit shipments will now fall each year through 2017, down to about 9m units that year. ®