Motorola Pro+ Qwerty Android smartphone
The best of both worlds?
Plus points
Call quality is fine once you're connected but it's a frustrating wait for the keypad to appear and for the 'end call' option to materialise once you've finished. Movies look small on its display, quite literally, since the option to stretch them doesn't necessarily allow them to fill the screen, so you still get the intrusive letterbox bars at top and bottom. Some prefer to know that bits haven't been cropped from view, but on a smallish screen like this, displaying the full Monty can be a bit of an eyestrain.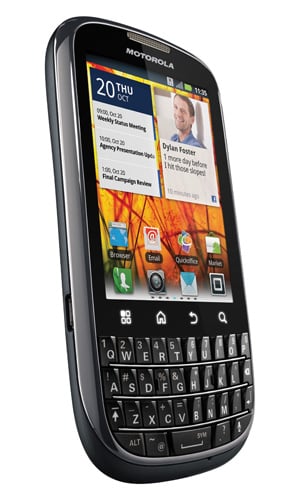 Key to success:
The music player has a few tricks up its sleeve, offering on-screen lyrics for many popular songs, as well as options to search for related videos on-line and text friends about your favourites. There's also an FM radio and internet radio that uses Shoutcast and a connection to 7digital's music store, with millions of tracks available to buy.
The Android browser looks like you'd expect, but renders pages slowly, even with a broadband connection over Wi-Fi, and while it supports Flash streaming video, performance can often look a bit choppy and disjointed. The Moto Phone Portal app allows you to sync your phone with your PC either by USB or Wi-Fi wireless connection. Frustratingly, when using the Wi-Fi connection, it dropped out way too regularly for comfort.
Quickoffice is here, allowing you to create and view Word, Excel and PowerPoint docs, and there's 4GB of memory on board, which would have seemed generous, except the original Pro had 8GB, though you can add up to 32GB with a microSD card. The 1550mAh battery held up fairly well, at least with the auto brightness activated, delivering a bit more than a day and a half of fairly heavy use.
Verdict
As a midrange business-focused handset, the Motorola Pro+ seems well equipped with its Qwerty keyboard, 5Mp camera and improved touchscreen, but it is not without some issues. Its keyboard isn't as good as a BlackBerry or, indeed, Android slider rivals from Sony Ericsson and HTC, and its performance can seem frustratingly slow, which leads to disappointment when using apps and browsing. It does everything it promises to do, but alas, with not as much panache as it should. ®
Thanks to Clove Technology for the loan of the review handset.
More Smartphone Reviews

RIM
BlackBerry
Curve 9360
Motorola
Razr
Nokia
Lumia 800
Samsung
Galaxy Nexus
Apple
iPhone 4S

Motorola Pro+ Qwerty Android smartphone
Business-centric Android smartphone with a Qwerty keyboard and a 5Mp camera.