Nokia lightens Dark Knight with Batman blower
The cased crusader
Nokia has created a run of limited edition Lumia 800 handsets to tie in with Christopher Nolan's next Batman blockbuster, The Dark Knight Rises.
Journalists were shown six minutes of the forthcoming Batman epic at a media event in London yesterday, where they were also given the chance to see Nokia's batphone in the flesh, Jon Choo blogs.
Now before you get your hopes up, just 40 of the bodacious blowers have been produced, so the likelihood of getting your mitts on one is as slim as the film incorporating a scene where Alfred tucks an inebriated Bruce Wayne into bed. What a heartwarming moment that would be.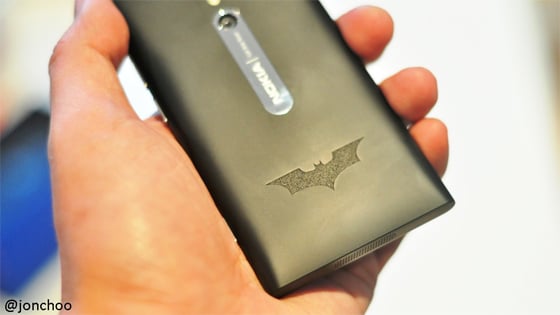 Holy Windows Phone Batman...
The handset is essentially a Lumia 800 with a Dark Knight logo carved into the rear, but that's one badass symbol of macho, and anyone lucky enough to receive one will no doubt be the envy of batfans round the world.
The Dark Knight Rises flies onto the big screen next summer, where Christian Bale will once again don the famed batsuit and blubber heroic cheese incoherently for two hours or so. I can't wait. ®
Sponsored: Practical tips for Office 365 tenant-to-tenant migration