Fans lose grace with Star Wars MMO
Access code worrier
Star Wars: The Old Republic fans are getting hot under the collar after it emerged that they may not be able to continue playing the game with pre-release "Early Access" code once the title hits shop shelves.
That might not matter so much if developer Bioware hadn't said such a so-called "grace period" would be in force.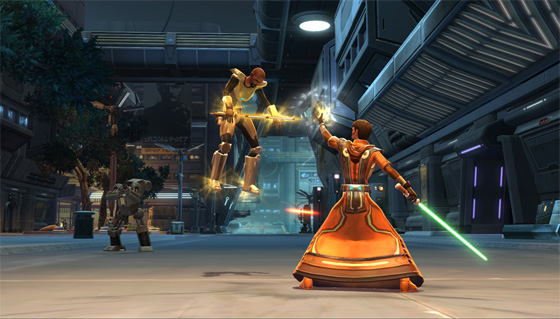 Hold up... what did you say?
Last week, publisher EA said that those who pre-ordered and were subsequently given access to the early play programme, will be unable to continue playing after launch until they key in a registration code included with each copy of the game.
Bioware had previously pledged otherwise, saying gamers who pre-order Star Wars: The Old Republic will get play continuity,
"There will be a period after launch day in which those who have pre-ordered [the game] will be able to continue playing before entering their Game Code. More information on this will be made available closer to launch," the developer said.
And Bioware's automated Customer Service e-mails still claim there will be a grace period as well:
"It is common practice for MMOs to allow for a Grace Period, and Star Wars: The Old Republic will be no different in that respect. When the game is released, you will have a five day post-launch grace period to purchase a full copy of the game and redeem your Game Code if you wish to continue playing the game without interruption."
But Stephen Reid, Community Manager for EA/Bioware, this week confirmed: "There will be no 'grace period' post launch in which those who are in Early Game Access will be able to continue to play the game."
"In order to continue playing past the Early Game Access period, you will need to enter a valid launch game code and payment method. Please read our FAQ for more information. We apologize for any previous messaging which may have led you to believe otherwise."
EA's revelation suggests that won't happen – unless your pre-ordered physical copy arrives before launch day.
No wonder that fans are unsurprisingly seething, especially those who pre-ordered in countries such as Australia, where an official launch date has yet to be set.
When it comes to MMO titles, turning up at the party a month late can be highly detrimental to one's geekdom aspirations. Not cool, guys, not cool. Bet you wish you went digital now.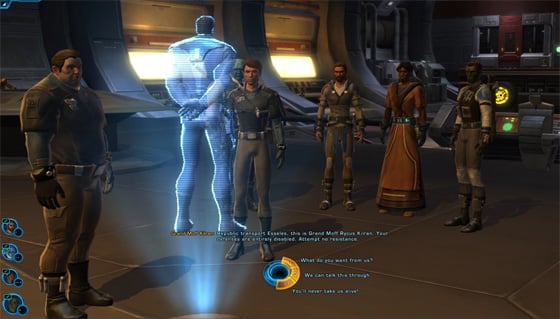 Holo-promises
Star Wars: The Old Republic flies onto UK shelves tomorrow, 15 December. Each copy comes with 30-days access, thereafter customers must pay either £9 every month, £25 every three, or £46 for half a year. ®
Thanks to reader Paul McDermott for the tip.
Sponsored: Beyond the Data Frontier