OWC 6G Mercury Aura Pro Express SSD
Speedier solid-state storage for your MacBook Air
Easy to install
Given that you can't buy a MacBook Air without an SSD, you're probably wondering what to do with the expensive slab of silicon you've just taken out. As luck would have it, OWC also sells an external caddy that will take the old SSD and turn it into a speedy USB 3.0 external drive, although the lack of USB 3.0 support on the Mac means you'll be accessing through the slower USB 2.0 standard.
This kit can be yours for an extra $30 (£19) when you order it with a replacement SSD and it's definitely worth opting for as it makes setting up the new drive so much easier.
The MacBook Air case uses five-point Torx screws, rather than regular crossheads, and the SSD is held down by a different Torx screw. You can argue about Apple using non-standard screws in the comments section, but screws do hold the screwdriver much more securely and as a result at no point did the head slip out and scratch my MacBook Air during installation, as has happened to me on MacBooks with crosshead screws in the past.
OWC includes all the necessary tools, so you can get going straight out the box.
In terms of performance, the news is good and bad. First the good: for some things, the drive is blazingly fast, even compared to the Samsung SSD in my MacBook Air. Turns out I won the SSD lottery after all.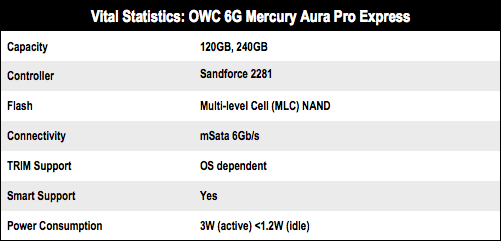 Sponsored: Detecting cyber attacks as a small to medium business