New species of dinosaur discovered... in museum
Dusty fossil of horny Canadian beast
Bone-bothering boffins have discovered an entirely new species of horned dinosaur, despite having parts of its skull for the last hundred years.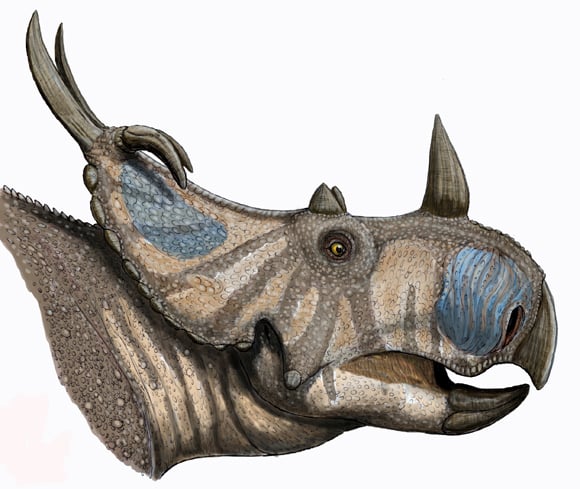 Artist's restoration of the head of Spinops sternbergorum.
Credit: Dmitry Bogdanov, courtesy of Raymond M. Alf Museum of Paleontology
The fossilised remains of parts of the skull of the Spinops sternbergorum were discovered in 1916 by father-and-son fossil-collectors Charles and Levi Sternberg. They thought they had found a new species and sent the fossils to the Natural History Museum in London.
But the museum decided that the fossils were too small to be exhibited, so they were filed away for decades.
"This study highlights the importance of museum collections for understanding the history of our planet," Andrew Farke, lead author on the study that named the Spinops, said in a statement.
"My colleagues and I were pleasantly surprised to find these fossils on the museum shelf, and even more astonished when we determined that they were a previously unknown species of dinosaur."
The Spinops lived around 76 million years ago in Canada. The dinosaur was a plant-eating smaller cousin of the Triceratops that weighed around two tons.
The prehistoric lizard had a single horn on its nose and a bony neck frill that had at least two long, backward-projecting spikes as well as two forward-curving hooks, which are the unique features that distinguish it from other horned dinosaurs.
Although Spinops' face looks very similar to that of its close relatives Centrosaurus and Styracosaurus, the bony neck frill gives boffins a better understanding of how this structure evolved.
"In particular, the fossils of Spinops clarify the identification of the long frill spikes common in some horned dinosaurs," the statement said.
"Previously, scientists had inferred that these spikes evolved only once in the group. Careful study of Spinops, however, suggests that its spikes are located in a different position from that seen in most other horned dinosaurs, implying that the structures evolved independently."
The name Spinops sternbergorum (pronounced "SPIN-ops stern-berg-OR-uhm") means 'Sternbergs' spine face', referring to the headgear of the animal and honouring the original discoverers of the fossil. ®
Sponsored: Detecting cyber attacks as a small to medium business