Apple poaches Brit sales boss from HP's PC group
Channel assault on corporates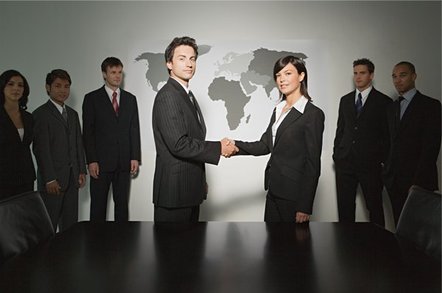 Apple has poached HP PSG channel sales director Trevor Evans to mastermind its assault on the corporate market, The Register can reveal.
Evans is already on gardening leave and takes the helm of Apple's B2B partner network at the end of January, sources say.
In an internal memo sent to staff and leaked to El Reg, PSG UK boss Paul Hunter, confirmed the departure of his right-hand man.
"I am sad to tell you that after six years Trevor has resigned with immediate effect to join Apple," said Hunter.
"I am proud to have recruited Trevor and his accomplishments should not need any introduction," he added.
In the interim, consumer sales manager Pascal Bourguet will assume Evans's responsibilities until a permanent successor is found.
It has been a year to forget for HP's PC biz after former CEO Leo Apotheker cast doubts over the future ownership. The move eventually came to nothing but ultimately contributed to his departure.
Only last week, HP CEO Meg Whitman admitted Apple is likely to become the biggest player in the PC market in 2012 on the back of the runaway success of the iPad, largely in the retail space.
But Apple is also understood to be designing a blueprint to take the commercial markets by storm to push its range of idevices and Macs into biz customers.
The departure of Evans will be felt by HP, said Martin Hellawell, managing director at Softcat: "He is a great guy that speaks his mind, is down to earth and knows his stuff. He will be a big loss to HP's team."
Apple and Evans were unavailable to comment at time of writing. ®