Eyes on stalks: ancient predator a real monster
Throw this shrimp on the barbie
A group of scientists working on fossils from Kangaroo Island in South Australia has turned up a Cambrian predator with horror-movie specs: razor serrations in a circular mouth, claws at the front of its head, and compound eyes on stalks.
Taagged Anomalocaris (roughly "irregular shrimp", or perhaps "abnormal shrimp"), the meter-long beauty seems to be a top predator from 500 million years ago.
What's got the boffins excited, according to University of New England palaeontologist Dr John Paterson, is that it's the first time a fossil has shown sufficient surface detail to prove that it had compound eyes.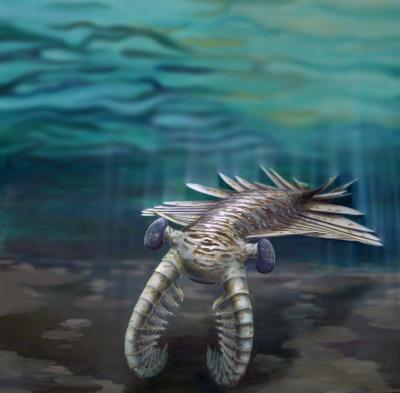 Artist's impression of Anomalocaris - Katrina Kenny, Uni of Adelaide
The Anomalocaris fossil, which showed up in the Emu Bay Shale fossil ground, yielded thousands of small, hardened lenses that made up each of the critter's 3cm-long eyes, according to Nature.
Paterson says his group's examination of the fossils turned up an impressive 16,000 lenses per eye – far ahead of modern insects like ants (with 1,000 lenses) or houseflies (with 3,200). According to Eureka Alert, only dragonflies have comparable resolution.
This suggests that not only did Anomalocaris have fearsome hunting equipment, it also had good eyesight for hunting.
Its status as an "apex predator" is also attested by trilobite fossils showing damage from predator attacks, and coprolites that contain the remains of its prey. The presence of this predator would also have fed into the evolution of other Cambrian creatures, in an arms race between predator and prey.
Other members of the team included Dr Michael Lee of the University of Adelaide and Adelaide Museum, and Dr Jim Jago (University of South Australia and Adelaide Museum). ®