Bumblebee boffins rediscover long-vanished species
Rare US insect had not been seen since 1956
Scientists have rediscovered an extremely rare species of bumblebee in the US, which hasn't been seen since 1956.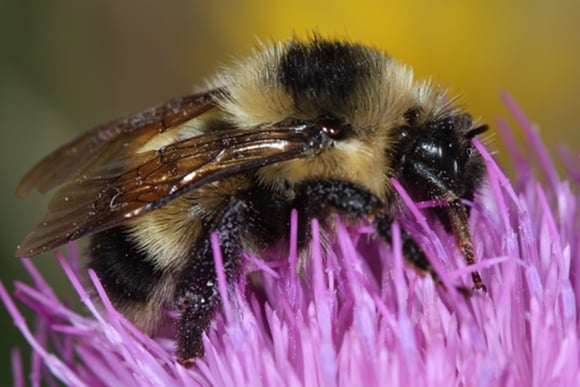 Cockerell's Bumblebee. Credit: G Ballmer, UC Riverside
The find has prompted a lot of excitement due to the concern about bee species disappearing around the world.
The bumblebee boffins, from University of California, Riverside, spotted the specimens in the weeds along a highway north of a town called Cloudcroft at the end of August.
The 'Cockerell's Bumblebee' had originally been described in 1913 from six samples collected along the Rio Ruidoso in New Mexico, and another 16 specimens found near Cloudcroft, which explains why the bee is so rare.
A species nearing extinction, the 'Franklin's Bumblebee' comes from an area covering around 13,000 square miles, while the Cockerell's Bumblebee is only found in an area of less than 300 square miles, the most limited range of any bumblebee species in the world.
"When an insect species is very rare, or highly localized, it can fairly easily escape detection for very long periods of time," Douglas Yanega, senior museum scientist, said in a canned statement from the university.
"There are many precedents - some of them very recently in the news, in fact - of insects that have been unseen for anywhere from 70 to more than 100 years, suddenly turning up again when someone either got lucky enough, or persistent enough, to cross paths with them again.
"It is much harder to give conclusive evidence that an insect species has gone extinct than for something like a bird or mammal or plant," he added.
Entomologists often rediscover insect species thought to be lost, and even find entirely new species at the rate of several dozen a year, usually in bees, wasps, beetles and plant bugs.
"It should come as no surprise that we discover so many new species of insects so easily," Yanega said.
"But the pace of species discovery and description is incredibly slow because there are so few insect taxonomists relative to the number of undescribed insects. Moreover, the work is painstaking, time-consuming, and not very glamorous, at least in the public's perception, when compared to studying things like dinosaurs."
Now that the Cockerell Bumblebee has been found again, the next step will be for bumblebee boffins to gather more data on the distribution and biology of the species, which up to now has been overlooked. ®