Cocktail Flow
Bottoms up!
Android App of the Week My knowledge of cocktails is limited to seeing how many I can drink at press launches, so for those occasions when I have guests who aren't impressed by my endless supply of bottled real ale, this app is a lifesaver.
You can search for cocktails by name, type, colour or basic alcoholic content. Once you've come across something that looks vaguely drinkable, tap the preparation tab and you're told what you will need and how to mix it from said components.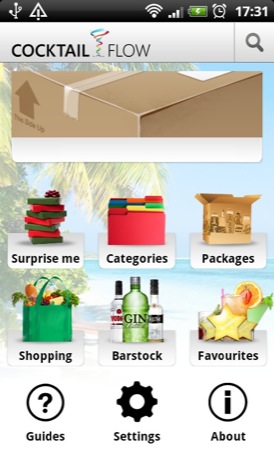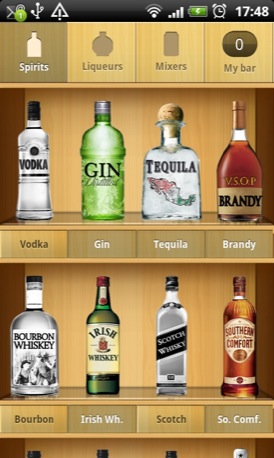 How well stocked is your booze cupboard?
The app is beautifully illustrated and animated - hence the 28MB size - so you get a good idea of what the end result should like. Obviously if you dump it in a Wychwood pint glass, the asthetics will suffer.
If you like what you taste and the resultant hangover isn't too catastrophic, the app will guide you to similar beverages that offer a variation on the theme.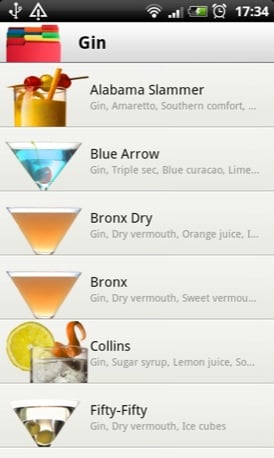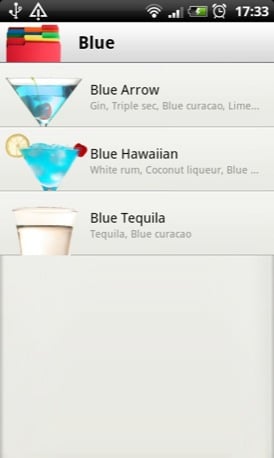 Find recipes based on content (left) or colour (right)
There is also an illustrated guide to what your bar should hold. Tap the bottles you have and they appear in colour so you only need to buy the ones in black and white when next in the offy.
If money's tight you can use the shopping function to show what drinks you could conjure up from certain ingredients and how much they are likely to set you back.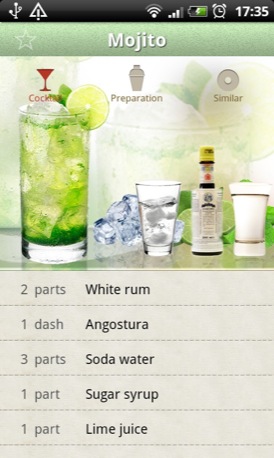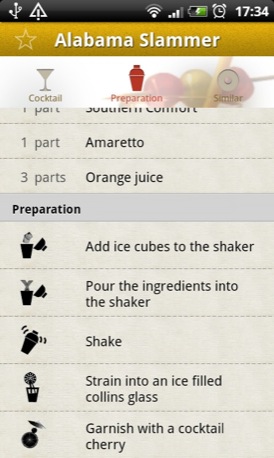 Learn the ingredients you need (left) and how to mix them (right)
Cleverly, this part of the app references your bar stock and lets you know how many new drinks buying some lime juice or sugar syrup will let you concoct.
Agreeable libations can be stored in the favourites section because if they are indeed that good, odds are you won't recall their name was let alone the ingredients the following day.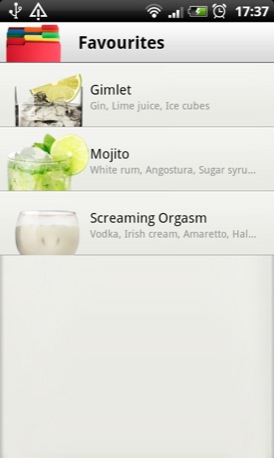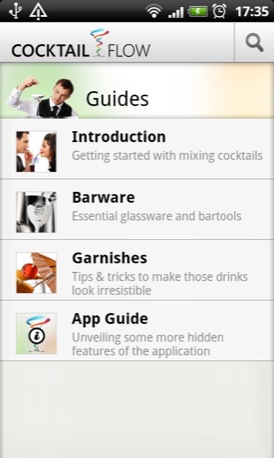 Track the drinks you favour (left). Further instruction is also available (right)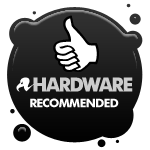 All the basic cocktails come bundled with the app but you can also download extra content in packs. Some packs such as shooters and New Year drinks are free while others, such as Christmas and Valentine's Day specials, will set up back 79p a pop.
If you get so half-cut that you can't focus on your mobile there's also a tablet version optimised to run on larger screens. ®
Size 28.4MB
App2SD Yes

We make our choice of the best Android smartphone and tablet downloads every Tuesday. If you think there's an app we should be considering, please let us know.
More Android App of the Week Winners

CamScanner
Lapse It Pro
JustPictures
BeWeather
Android
voice assistant
shootout

Cocktail Flow
Mix'n'match - your personal cocktail recipe book that also keeps track of your booze cabinet's contents.