Brocade gives Wall Street the finger
Better than expected results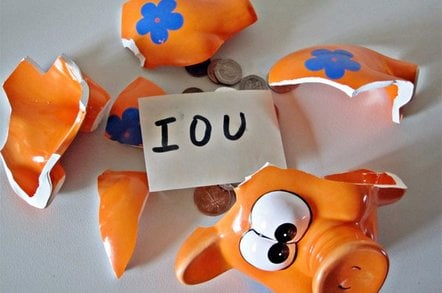 The SANs are okay... Brocade beat pessimistic Wall St estimates about its fourth quarter (Q4) earnings and outlook for the next quarter, showing that there is more life in the Fibre Channel and Ethernet vendor than analysts gave it credit for.
Revenues in the fourth quarter ending 29 October were $550m, a 9 per cent rise on the previous quarter and almost flat compared to the year-ago figure of $549m. The general Wall St expectation was for revenues of $527m. The revenues were increased by an upsurge in the storage networking business and record Ethernet sales.
There was a loss of $4.3m, but analysts had been expecting worse. This meant that the technical non-GAAP earnings per share were calculated to be $0.16 when they were expected to be $0.10, 60 per cent lower. This Q4 loss compares to a $2m profit in the previous quarter and a $22m profit in the fourth quarter of 2010. Life for Brocade is much harder than a year ago.
Wall St expectations had probably been affected by the rumour that Brocade was putting itself up for sale again.
Revenue for Brocade's Storage business was $361.3m in the fourth quarter, up 8 per cent sequentially and down 4 per cent year-over-year. This was driven up by demand for 16Gbit/s Fibre Channel (FC) with all its main OEMs shipping the products and, obviously, customers buying the faster SAN fabric kit and not substituting Fibre Channel over Ethernet (FCoE) for physical FC.
It sees very modest FCoE take-up, from the servers to the first switch. After that the Fibre Channel traffic travels over physical FC. Brocade sees almost no take-up of end-to-end FCoE, which would cannibalise its Fibre Channel business.
Brocade's Ethernet business generated $189.2m, 12 per cent up sequentially, and 11 per cent annually. In the earnings call CEO Michael Klayko said Brocade had acquired "more new Ethernet customers in Q4 than any quarter before".
He also pointed out that: "We were also making great progress in being able to sell Ethernet solutions into our top SAN accounts. At the end of Q4, we can now point to 60 per cent penetration of Ethernet sales into our top 100 SAN accounts."
Brocade's FC customers are increasingly buying its Ethernet kit. The company said it was also seeing good enterprise and service provider demand for its high-bandwidth Ethernet products.
The full year's revenues of $2.15bn were 3 per cent higher than fiscal 2010's $2.09bn, and generated profits of $50.6m, less than half the previous year's $116.5m.
Brocade's outlook for the next quarter is $530m to $550m, again up on general Wall St estimates of around $535m, with Klayko's company seeming to find more business out there than the Street, despite Eurozone uncertainty.
Will the good profit times roll again for Brocade? The continuing threat is that lower-price FCoE will eat into its high-margin FC business. The obvious tactic is to increase Ethernet product and service sales enough to compensate for the expected coming FC decline.
The somewhat unexpectedly fast but very welcome ramp on 16Gbit/s FC product sales raises the prospect that a jump to 32Gbit/s FC in the future could push that FC decline out further into the future. Brocade thinks that customers are buying 16 gig FC for its improved manageability and automation and not just for sheer speed, which might imply 32 gig FC won't be a FC revenue life saver. It's all cloudy and foggy out there in the future. ®