Despite Android lead, iOS devs slurp scads more mazuma
iPhone, iPad devs laughing all the way to the bank
If you're a developer who wants the largest target market for your smartphone and tablet apps, write for Android devices. But if you want to make money, write for the iPhone and iPad.
That's the conclusion of a pair of recent reports. Millennial Media's October 2011 Mobile Mix study reconfirms what has been true for months: that Android powers far more smartphones and "connected devices" – think tablets – than does iOS, by 54 per cent to 28 per cent.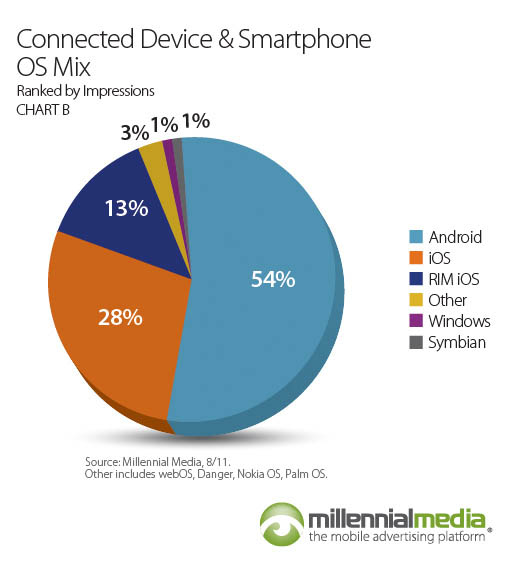 A big market share doesn't necessarily translate to big profits for developers
Another study released by Piper Jaffrey's Gene Muster and reported by CNNMoney, however, claims that as of September 2011, iOS developers have pulled in well over $3.4bn, while Android devs have netted just under $240m.
As with most surveys, caveats abound. For one, Millennial Media's findings come from an analysis of usage in just their – admittedly vast – advertising network, and Munster's stats are based on even shakier ground: Apple's public announcements, stats from the app-watchers at AndroLib, and his own estimates.
And to be perfectly fair, remember that Apple's iOS App Store has been up and running since July 2008, and that Google's Android market only began offering paid apps in February 2009.
One more Munsterian tidbit that adds to the total number of grains of salt with which you need to season this data: only 1.3 per cent of Android apps are paid, compared with 13.5 per cent of iOS apps.
Caveats aside, though, if Munster's numbers are even within shouting distance of reality, the 14:1 disparity is a mighty incentive to develop for iOS rather than Android – that is, if you can create an app compelling enough to cut through the clutter of the half-million-plus apps crowding the iOS App Store. ®
Sponsored: What next after Netezza?