Solar-powered data centre won't get IBM very far...
Big blue bombast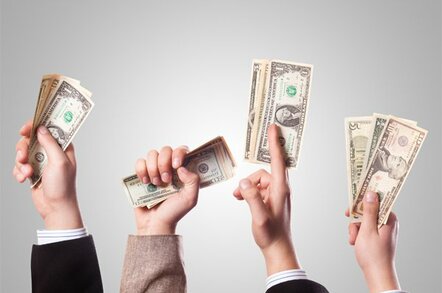 IBM is rolling out a solar-powered data centre in India that will, it says, be one of the first data centres that don't need the electricity grid – but 80 per cent of the time the sun isn't shining brightly enough.
Rod Adkins, a senior vice president in IBM's Systems and Technology Group, said: "The technology behind solar power has been around for many years, but until now, no one has engineered it for efficient use in IT. We've designed a solar solution to bring a new source of clean, reliable and efficient power to energy-intensive, industrial-scale electronics."
IBM plans for the Bangalore solar-powered system to connect directly into the data centre's water-cooling and high-voltage DC systems. What has happened is that 6,000 square feet of solar-power panels have been bolted to the roof of a Bangalore data centre. This can feed generated current via power-conditioning equipment to the AC- and DC-based servers, other related electronics, and water-cooling system in the data centre. It can provide a compute power of 25 to 30 teraflops using an IBM Power Systems server on a 50kW solar power supply.
IBM says this means "a bank, a telecommunications company or a government agency could contemplate setting up a data center that doesn't need the grid".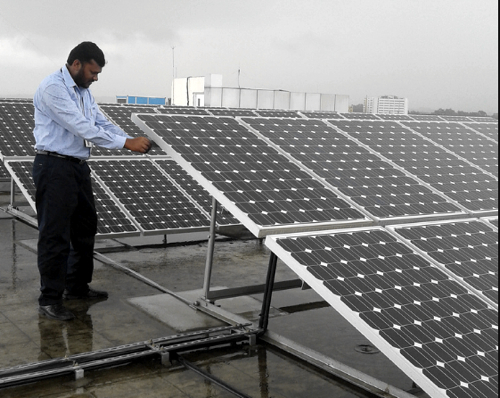 A technician works on the IBM Bangalore data centre solar power array, on a day when it's raining.
But, no, it doesn't actually mean anything of the sort. Certainly the idea is good, in principle, but look at the detail: IBM says solar-power array can provide a 50 kilowatt electricity "for up to 330 days a year, for an average of five hours a day".
So, do the math. There are 8,760 hours in a 365-day year, and the solar power system generates its 50 kilowatts for 5 hours a day up to 330 days a year, meaning 1,650 hours at best. That means the sun is not powering the data centre for over 80 per cent of the year: which is far, far away from enabling "setting up a data centre that doesn't need the grid". Sure, you can be off off the grid, but only if you run it when the sun is shining strongly.
Dr Ponani Gopalakrishnan, a VP at IBM's India Software Lab, put it more realistically: "This solar deployment, currently powering almost 20 percent of our own data centre energy requirements, is the latest in the investments made at the India lab to design an efficient and smarter data centre. Ready access to renewable energy in emerging markets presents significant opportunities for IBM to increase efficiencies, improve productivity and drive innovation for businesses around the world."
This is a start but IBM would need five times more solar--generated electricity to power the data centre. It isn't going to get it and the way to grid-free data centres is surely to markedly lower the power-needs of servers and other IT gear and cut down the cooling power needs as well.
Is solar power on its own adequate for "energy-intensive, industrial-scale electronics?" The IBM Bangalore experience would suggest not by a long chalk. ®