Engineers seek funds for world's largest Tesla coil
Ten stories of electromagnetic goodness
A team of engineers is seeking $348,000 in funding on Kickstarter to build the world's largest Tesla coils, capable of spitting artificial lightning for hundreds of feet.
The Lightning Foundry, the brainchild of high voltage engineer Greg Leyh, will stand ten stories high (the original plan was 20 per cent higher) and will be capable of shooting arcs of electricity around 200 to 250 feet. Besides being really cool to look at, Leyh and his team do have a serious scientific point to the project – working out how lightning gets so efficient at transmitting electricity.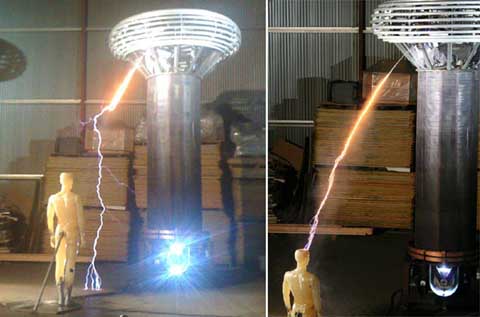 Mythbusters use a salt water cannon to direct the power
"Lightning uses around a tenth of the power per foot of energy to send electricity through the air compared to man-made examples," he explained to The Register. "Lightning initiation is still something that baffles experts."
Already the prototypes for Lightning Foundry have revealed some interesting real-world applications for the project. The team has been able to beam power to a stripped down electric car using the system, and the research is showing some interesting ways power can be used via the air.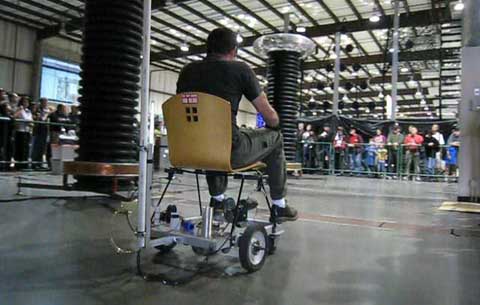 Electric car is pushing it, but wireless power works
If the team's funding goals are realized the machine will be built in San Francisco and then transported to Nevada, for set up close to the Hoover Dam. This isn't because of the huge power needs of the coil (the team will be spinning their own power using local turbines,) but to provide space for testing and running the system.
There are, however, safety considerations to take into account. While the team is expecting 200-foot arcs of power, it is possible that the artificial lightning could show the same efficiency as its natural counterpart if the arcs get long enough – which would increase the overall arc fallout zone by a factor of five, imperiling spectators.
While the experiment does have a scientific purpose, Leyh acknowledged that it would also be a hell of a spectacle and he anticipates the device drawing in crowds eager to see electricity in action.
"Hopefully, this is a scientific experiment that people would go and see," he said. "I would love it if this inspires people to consider their universe and the wonders it contains." ®
Sponsored: Detecting cyber attacks as a small to medium business