Keep it simple with one-size-fits-all networking
No more crossed wires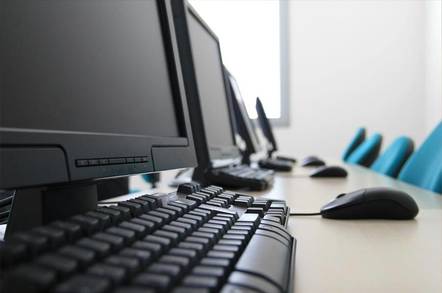 This isn't the sort of thing that sysadmins usually admit to, but I have recently developed a grudging sort of respect for cable monkeys.
This is a difficult statement to make: sysadmins despise cabling. All too many of us think it is beneath us, our time is too valuable to be spent on such mundane tasks, cabling is a waste of our skills.
The truth is, being a cable monkey is hard, legitimate earning-your-supper work. It is miserable, tedious labour and to do it properly requires expert knowledge of various arcane standards.
An experienced cable monkey can turn out multiple finished cables per minute. By contrast, it takes me 15 minutes to get a single CAT 6 head crimped properly.
Cable mountain
This has recently turned round to bite me. My day job's HQ moved to another building, taking its data centre with it. My colleagues busied themselves with various tasks related to the move but I was unable to participate in the one job of manual labour directly connected to my department.
The experience – apart from being humbling to the point of humiliation – set me thinking about cabling in all aspects of the enterprise.
As we push our cabling further, the requirements become more exacting. Getting CAT 6a right is certainly more difficult than plain old CAT 5. There is less margin for error, better tools are required, the cost of certification testers climbs.
The same is true throughout the enterprise. RJ-11 phones are disappearing, replaced by IP phones dependent upon (at minimum) CAT 5. Fibre Channel is evolving, and even USB has several generations of cabling to keep track of.
Add in various flavours of fibre optics, coaxial, InfiniBand and so on, and converged networking starts to make a great deal of sense.
Various types of cabling exists to support various competing interconnects, but the need for this is diminishing. As an example, InfiniBand still has both a throughput and latency edge over Ethernet, but companies such as Intel are beavering away to make that irrelevant as well.
Caught in the Ethernet
My guess would be that two refresh cycles from now, the Ethernet spec will have caught up enough for this to have trickled down to everyone.
Fibre Channel is an example of victory in this area. Until now it has been viewed as a superior transport method than Ethernet.
Today, the issues that made it so are no longer relevant: the Ethernet specification has been extended to cope. Your next network upgrade will probably contain all the bells and whistles needed at no additional cost.
Lord copper
The long and short of this is the supremacy of Ethernet economics. It is standard copper cabling. I can run my phones, my client-facing networks, my storage and my server interconnects all on one type of cabling.
This brings me back to converged networking. The advantages here are rooted in simplicity: one set of physical plant, one type of network interface card and one type of switch, one contractor with one supplier and one expensive set of cable certification tools.
Converged networking, for better or worse, is the future
From a business end, cabling infrastructure is a significant investment. Business owners have zero interest in chucking it all out with every systems refresh.
Getting 10 or 15 years from cable plant is absolutely mandatory. The movement away from all these different interconnects then is a Good Thing.
Like the floppy drive or the parallel port, Fibre Channel will still be around for a while. Many companies have massive investments in cable plant and intend to ride it to the bitter end.
But to put this bluntly, absolutely nobody should be building new Fibre Channel plant. It is dead. If it exists in 15 years, it certainly won't be top of the heap in any way. Converged networking, for better or worse, is the future for us all.
Fifteen years of cable plant for every computer interconnect you need starts with your next CAT-X run. ®
Sponsored: Detecting cyber attacks as a small to medium business