Will Intel slay or flee fearsome Snapdragon Win 8 tab?
Critical moment in mobile conflict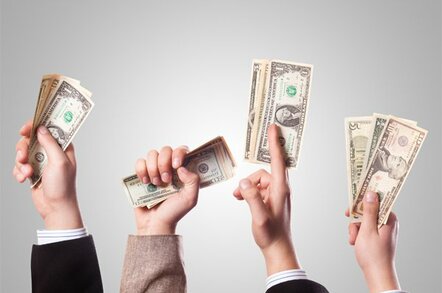 Analysis In the week that the microprocessor turns 40, its inventor Intel is besieged by ARM-based rivals in the biggest growth market for the chips: mobile devices.
Intel's highest hopes rest in the mobile processor's move beyond the cellphone, into larger, more PC-like products that fit more comfortably into Intel's ecosystem. But it will have a tough battle on its hands. The leader of the mobile ARM pack, Qualcomm, used to say it wanted to stick to what it knew best, smartphones, but it reversed that strategy when it unveiled the Snapdragon chip, targeting it at a huge range of consumer and 'post-PC' devices, and when it acquired Atheros, with a beady eye on the home wireless market.
Now Qualcomm is eyeing Intel's traditional place as the primary partner for Windows, using its early moves into next year's Windows 8 as a springboard into Intel's heartlands – and this time, it has Nokia on its side too.
Qualcomm is an expert at forging a wide mesh of alliances around its efforts, working with carriers, developers and consumers as well as its direct customers. One of its most important partnerships in recent years has been with Microsoft, in whose unloved Windows Mobile platform the US chipmaker has invested far more time and effort than it would seem to merit (the new iteration, Windows Phone 7, had only 1.5 per cent share of the smartphone base in the third quarter, according to Gartner).
But Qualcomm can afford to play a long game, and it has its own challenges - just as it aims to take on Intel in mobile computers (whatever they may look like in future), so it is being squeezed on one side by low cost challengers for its cellphone crown, such as MediaTek, and on the other by immigrants from the PC market like Nvidia. So usurping Intel's traditional place at Microsoft's right hand is a strategic imperative for Qualcomm, and even if that does not bear much fruit in WP7, it is likely to reap rewards in the far more important Windows 8, which spans ARM and x86 architectures, and various device formats.
The possible obstacle in Qualcomm's path, after years of wooing Microsoft, was the sudden anointing of Nokia as the lead WP7 partner. Despite settling their legal differences in 2008 and even signing a supplier deal in 2009, the two firms had a long history of hostility and Nokia had its own well established alliances in the chip market, with Texas Instruments, ST-Ericsson (STE) and more recently Broadcom.
In addition, Nokia had got close to Intel, via the aborted MeeGo effort and because it buys chips for low-end phones from the firm's Infineon Wireless unit. This was where Qualcomm's intensive cultivation of Microsoft really paid off – at the point where Nokia was launching its first WP7 devices, the make-or-break Lumia family, no other silicon vendor had a platform optimized for the new OS and ready for market.
Nokia insists it will include STE in its Lumia range as soon as possible, but it knows that Qualcomm brings significant advantages in its deep understanding of the Microsoft platforms, and will be basically unavoidable in WP7 for years to come – a position it looks set to extend into Windows 8.
Sponsored: How to Process, Wrangle, Analyze and Visualize your Data with Three Complementary Tools