Nikon 1 J1 interchangeable lens compact camera
Late to the party and making a scene
Body talk
The J1's physical dimensions cause it to look and handle like larger compact camera, save for the protruding lens which will prevent it from sliding into a trouser pocket – although a coat pocket should be easily large enough. Buy the twin lens bundle and you'll have no problem putting the camera and lens into one pocket and the spare lens into the other.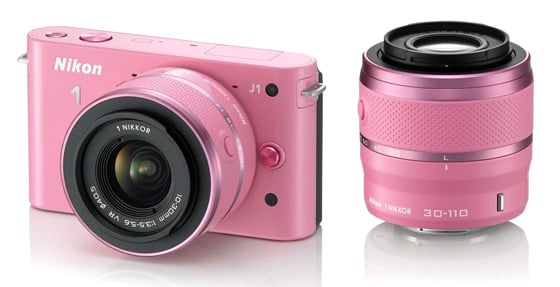 Twin lens bundle with matching coloured optics
Unlike the majority of interchangeable lens compacts which use DSLR-sized APS-C or Micro Four Thirds format sensors, both Nikon 1 cameras are fitted with a new 10.1Mp 13.2 x 8.8mm sensor that falls about halfway between that of a compact and a DSLR. For the Nikon 1 range, the company has devised a range of diminutive lenses with a new smaller lens mount.
The selection of lenses is currently limited to just four, two of which were included in the review kit: the 10-30mm f/3.5-f/5.6 wide zoom and the 30-110mm f/3.8-f/5.6 telephoto zoom. Also available is a 10mm f/2.8 pancake prime and a 10-100mm f/4.5-5.6 PD-Zoom aimed at shooting video.

The current CX optics range features three zooms and one prime 'pancake' lens
When compared to a full-frame sensor, the J1 is working with a 2.7x crop factor with the result that the a 10mm Nikon 1 lens offers an equivalent field of view to a 27mm lens in 35mm equivalent terms. At the telephoto end of the scale, the 110mm is equivalent to 297mm.
To give you an idea of the size and weight saving involved here. The Nikon 1 10-110mm zoom weighs 180g whereas a 55-200mm f/4-f/5.6 AF-S VR DX lens for its DSLRs weighs in at 335g and is about 50 per cent longer.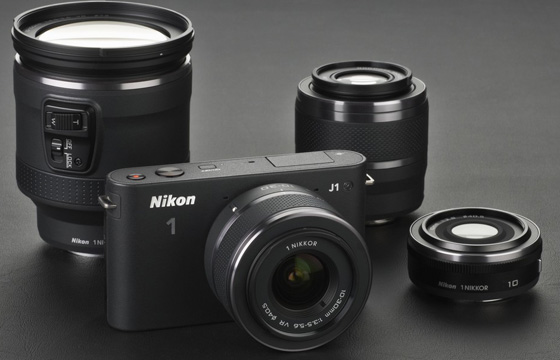 Also available in black
An FT1 mount adapter is soon to be released which will allow you to use any Nikon mount SLR lens on the J1, but until then the range of lenses available remains somewhat smaller than that of competing mirrorless camera systems. Fans of macro photography or fast lenses in the f/1.4 range will have to wait. However, for fashionistas the J1 is available in five colours ranging from a smart black to an ironic pink, but if you want your lenses to match the more interesting shades, you'll need to buy them at the same time as the camera body.