PETA claims anti-Mario campaign was a joke
You think we're over-reacting?
PETA, the People for the Ethical Treatment of Animals, has responded to fan backlash over this week's anti-Mario campaign, insisting it wasn't an attack on the Ninty mascot, but a humorous attempt to raise awareness of a serious issue.
"Mario fans: Relax! PETA's game was meant to be tongue-in-cheek, a fun way to call attention to a serious issue, that raccoon dogs are skinned alive for their fur," Shakira Croce, PETA's media coordinator said.
The game involves a skinless tanuki, a Japanese raccoon, pursuing as Tanooki-clad Mario.
PETA insisted it was surprised at how seriously people took the game, but was thrilled that it had brought so much attention to the issue.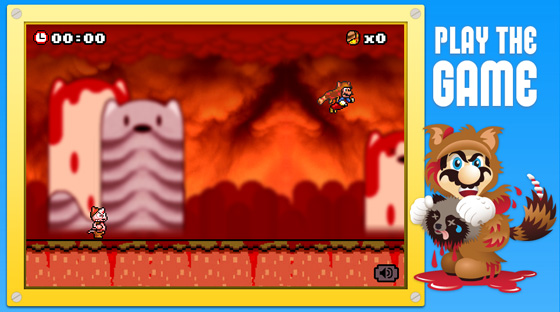 "No one really believes that Mario actually kills and skins a raccoon for his fur in Super Mario 3D Land," PETA spokeswoman Ashley Palmer told Kotaku.
"Our spoof is simply making a serious point: that there is a much darker story behind tanuki skins than Mario lets on. In games like Call of Duty, where characters shoot and kill animals, or in Dog Wars, where players have fun fighting and torturing dogs, it sends a dangerous message that this kind of behaviour is acceptable," she added.
More than a quarter of a million people played Mario Kills Tanuki in the first 36 hours, apparently. I tried it several times myself. It always ended with the skinless tanuki suffering further by falling down a hole. How ironic. ®