Boffin bothers frogs until they spill super power secrets
What makes them leap so far?
A springy catapult tendon is what sends frogs flying far beyond what their muscles alone could achieve, a boffin researching frog jumps has discovered.
By attaching metal beads to the shin bones, ankles and leg muscles of frogs and filming them jumping with a 3D X-ray video camera, Henry Astley a biomechanics grad student at Brown, finally worked out what makes little amphibians so springy.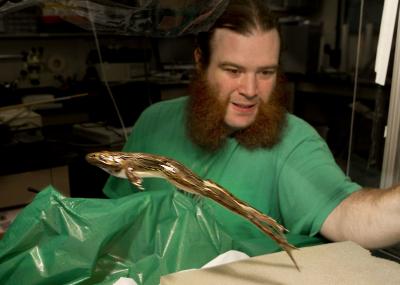 Biomechanics grad Henry Astley with a frog: The frog can be explained, the 'burns can't
Frogs have a tendon called the plantaris longus (humans also have a plantaris tendon – running down our calves towards the Achilles tendon –, though we hardly use ours) that the leg muscle loads up with stored elastic energy. When the frog leaps, the tendon recoils like a spring and hurls the little frog far further than the creature could jump with just its leg muscles, Astley and Brown University biology professor Thomas Roberts concluded.
"Muscles alone couldn't produce jumps that good," said Astley, who specialises in the biomechanics of frog jumping. Frog jumping is one of the most powerful accelerations in vertebrate locomotion, and even though as much as a quarter of a frog's body mass is in its legs, it would be physically incapable of jumping as far without the tendon's services.
"It's the first time we've really gotten the inner workings, that we've put all the pieces (to frog jumping) together," Astley said. "We now have a clearer idea what's going on."
"Frogs are interesting in their own right, but we are also confident that this study gives us insight into how muscles and tendons work together in animal movement," said Roberts. "Other studies have presented evidence for an elastic mechanism, but Henry's gives us the first glimpse of how it actually works." ®
Evidence for a vertebrate catapult: elastic energy storage in the plantaris tendon during frog jumping, by Henry C Astley and Thomas J Roberts, is published in Biology Letters, 16 November, 2011 edition.