Fedora 16: A GNOME lover's paradise
Verne triumphs over rough edges
Minor annoyances
For those accustomed to GNOME 2.x, GNOME 3 is still a long way from comfortable. But, like KDE struggling from version 3 to 4 before it, the GNOME team is slowly putting the bugs to rest and adding back the missing features.
Which, of course, does not mean that GNOME 3.2 is perfect. In fact there were enough little bugs and annoyances in my testing - including a particularly annoying inability to automatically detect my screen size and keep it set between reboots - that leaves it feeling rough around the edges and consequently gives the impression that Fedora is less stable than usual.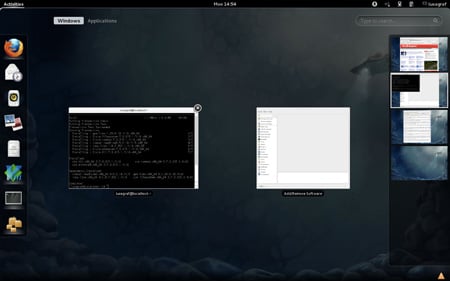 Workspace switcher has been improved
Fedora 16 ships with a number of updates for the standard GNOME app suite including the Evolution email client - Fedora having decided to stick with Evolution rather than following Ubuntu over to Mozilla's Thunderbird - the Empathy chat app, Rhythmbox and others.
Missing from the live CD are office applications, such as the new LibreOffice which is available via the repos but is no longer installed. The absence of weighty apps minimises the live CD download size. Also not on the live CD, but new in Fedora 16, is the latest version of Blender, a 3D imaging tool.
Fedora 16 also features the latest Firefox release and the usual developer tool updates for Perl, Python and Haskell.
This release also quietly adds support for the fast-growing OpenStack cloud platform, which seems to have gone from unknown to must-have in record time, even for a cloud tool. Ubuntu's 11.10 server already ships with OpenStack, SUSE Linux plans to release a commercially supported version and, presumably as a testbed for an eventual Red Hat Linux release, Fedora 16 includes the Diablo flavour of OpenStack.
Fedora 16 also features the new Linux 3.0 kernel with support for more hardware and improvements to Linux's Btrfs support. Early in the Fedora 16 release cycle there was talk of moving to the Btrfs filesystem as the default for Fedora 16, but in the end it didn't happen. Fedora 16 still defaults to the ext4 filesystem. There is, however, support for the GRUB2 bootloader on x86 systems, which replaces GRUB legacy.
Also worth noting - if only for the name - the HAL daemon, a system process used for accessing hardware and something of a resource hog, has been removed.
Like Ubuntu 11.10, which was released a few weeks ago, Fedora 16 will be making the leap to GNOME 3 not just for the Shell, but for all the underlying system tools as well. That means there will be no way to boot Fedora 16 into GNOME 2.x. There is a simplified "fallback" mode for hardware that doesn't measure up to GNOME 3's requirements, but effectively from here on out, GNOME 3 is GNOME.
If you're less keen on GNOME 3, there are other Fedora spins worth checking out. Both the KDE and Xfce flavours offer most of the same improvements under the hood, and Fedora 16's KDE spin offers the KDE Plasma Workspace 4.7, including both the usual Plasma Desktop and the newer netbook workspace.
For those who've already made peace with GNOME 3, or even enjoy it, Fedora 16 offers one of best platforms on which to run the new Shell environment. Not only is the default theme nicely integrated into GNOME 3, the underlying core has all the usual power of a Fedora release. ®