Reg man the most-flamed recruiter in the UK?
Dom Connor IS 'the unemployment problem', readers declare
FoTW Last week's article by Dominic Connor on how some techies really, really need some help with their CVs hit a number of nerves.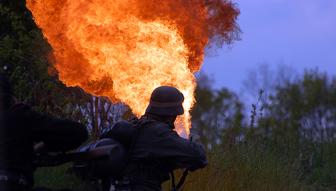 Image via Shutterstock
It's quite possible that this single piece will earn Dominic The Reg's annual most flamed writer award for 2011.
Now, we know you're busy people, so here are some of the choices cutting remarks directed at a man who was only trying to hel...
First up was Scott Brown
What the hell is this guy on about? #

This must have been the most irritating article I've ever read on on here.
And from there, the floodgates opened.
Anonymous Coward

Thanks... #

..For reminding me why I don't use recruiters, you lot are almost as useless as estate agents.
For others it was Dominic's policy on phone numbers that made the blood boil.
Dances With Sheep

Mobile Phone Number ? #

"Why do you send your CV to me with no mobile phone number? "

Is he taking the piss?

Who the fuck is going to give a mobile phone number so you can call me at my current place of employment or when I'm sat on the bog? You get a home landline (with voice-mail) and a private email address sunshine.

If you think you need to contact me instantly, right this minute... you don't. Any company I will work for isn't shitting themselves trying to employ the first person they can phone in a blind panic.
While for Hollow, the problem was... well just about everything.
Hollow

You sir, are THE unemployment problem! #

This article is disgusting, it completely and utterly encapsulates the recruitment industry, stupid, idiotic, arrogant arseholes who wouldn't know a good applicant if it hit them in the face!

Why do we put our education on our CVs? Because it took us a bloody long time to get, in some cases cost us a fortune to get, because most employers look for degrees or relevant vendor qualifications and that was the reason we spent so much time and money getting them. We could of course just leave school and tell you that "I can com-pooo-tor" if you like? Fucktard!

Those who can, do, those who can't, teach, those who can literally do NOTHING, recruit! Most recruiters don't have a CLUE what my job entails, they have NO idea how to write code, how to build a server, how to set up a network, half of them barely know how to turn on a computer in the first place. "I can't turn the damn thing on, look" ... "That's the HP logo, not the on button, let me help".

Your CV checking agency does credit checks does it? Is this something industry wide? I don't remember ever agreeing to a credit check with an agent, I'm sure that's against the law!?

The reason people put their summer jobs on the CV and have a 4 or 5 page CV instead of a 2 page one, is because interviewers are more intelligent than recruiters, so they ask questions. If I don't put down that I spent 7 months doing nothing but DJing for a living in 2003, I'll get asked why I went from working in BTs back office to working for a finance company in Epsom, but spent 7 months out of work in between, at which point I have to start talking, once I start talking, I run the risk of saying something they don't want to hear, something that's going to not get me the job, if it's on my well thought out and triple checked CV however, they won't ask, because it's already there as 2 lines, briefly explaining what I was doing and where I was, this then enables me to just answer the techie questions that are actually fucking relevant!

I would absolutely LOVE to destroy the recruitment industry, it's nothing but a blood sucking whore with a bunch of zombies in their employ! You go for an interview, get pipped at the post by one other applicant, the recruiter won't ring you back! You ring their office and you get told they're "out", what fucking ever, you just don't want to talk to me because I didn't earn you any commission you shallow fuck! How about giving me some feedback as to why the other guy pipped me at the post? How about telling me what they liked about me, so I can make sure to do it again the next time you ring me up, in a months time, like nothing happened and you weren't an arrogant prick and send me somewhere else?

Recruitment, IS the reason for unemployment. All those broken websites out there in the world, Recruitments fault, I'd go as far as to say the whole PSN fiasco, that was recruitments fault, because no doubt Sony went to a recruitment agent to hire the developers and the ones who could secure the site and make it resilient against attack, spent their child hoods hacking things and playing with technology, instead of learning how to use Word or correcting their fucking grammar! My god you boil my blood, you arrogant, ignorant prick!
Sponsored: Becoming a Pragmatic Security Leader