PETA riled by Mario's raccoon skin suit
Bloody outrage
PETA, the People for the Ethical Treatment of Animals, has launched a scathing campaign against Nintendo's mascot, Mario, claiming his use of the tanooki suit is unethical.
The protesters reckon the fact the fur brings the plump plumber special powers sends kids the wrong message. Won't somebody think of the children... er... the raccoons?
"Tanooki may be just a 'suit' in Mario games, but in real life, tanuki are raccoon dogs who are skinned alive for their fur. By wearing Tanooki, Mario is sending the message that it's OK to wear fur," PETA's website insists.
The statement is followed by an amusing Flash game, Mario Kills Tanooki, in which players take control of a fur-less racooon that chases after a blood-crazed Mario in order to reclaim his skin.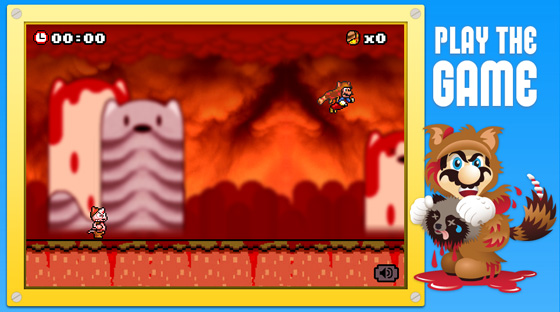 The Tanooki suit has been worn by Mario for decades, so I'm surprised it took the organisation so long to lay the smackdown. But give the guy a break, PETA - it is Movember this month, after all.
I believe the group should focus more attention on continuing to send out pretty girls in bikinis to convince us all to go vegan. I'm sure any Tom, Dick and Prince Harry would agree. ®