Samsung RV720 17in Core i3 notebook
Big screen bargain?
Review Desktop replacement laptops are a genre of portable computer apparently intent on chuntering on forever without ever truly succeeding or dying. By nature, they tend not to be petite, and Samsung's RV720 is no exception.
Desktop replacement on the cheap: Samsung's RV720
Weighing around 2.7kg and measuring up at 420mm wide by 275mm deep, not only is it a burden to carry for a proper distance, you'll also need to hunt around to find a bag that will take its sizeable bulk. Certainly, the polite traveller will avoid deploying it on a train or worse, a plane tray table.
At first glance, the 17.3in screen offers bags of real estate. There's a lot of promise for creative types, but the resolution could certainly stand to be a tad higher – 1600 x 900 is all you get, and while that's plenty for web-browsing, it does seem a bit of a waste. Narrowly missing a match for Full HD, this is mitigated by the optical drive, which is DVD-only. In compensation, the screen is fantastically bright, and a duel with DisplayMate revealed smooth gradients and deep blacks.
With this form factor there's room enough for a mumeric keypad too
There's a lot of room for the keyboard, and Samsung has put the space to good use. The keys are nicely spaced, and there's a full numpad on the right hand side. The base of the system feels solid, making the RV720 a worthy machine for bashing out coursework or the household expenses.
Samsung has included a fairly bare-bones selection of interface options. You get three USB 2.0 ports, which will doubtless be enough for most, but not quite enough for more demanding users who want to their desktop replacement to be an actual desktop replacement and would hope for at least one USB 3.0 port. You do get an SD card slot, though, as well as both VGA and HDMI ports, plus dedicated 3.5mm audio I/O ports.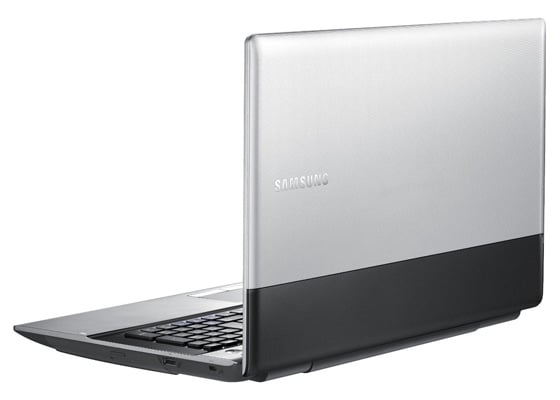 No Blu-ray, but a 750GB HDD is on-board
If the supply of external ports appears so-so, Samsung makes some compensation with internal storage, with a 750GB Hitachi hard disk on-baord. It may run at a mere 5400RPM, but most home users will take capacity over the relatively small performance increase provided by a 7200RPM drive. It comes divided into two partitions: one 270GB partition and another 404GB space; handy for those who want to keep their applications and documents separate.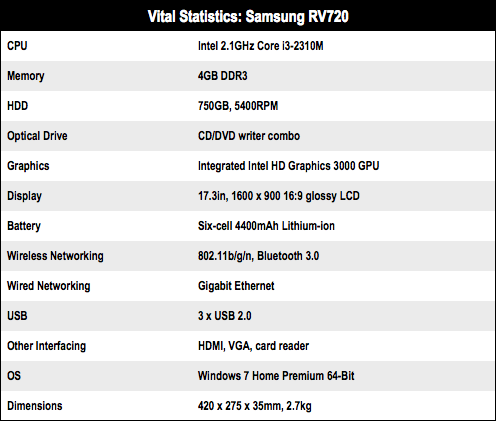 Sponsored: Detecting cyber attacks as a small to medium business