New array scoffs disks like a fat bloke gobbling doughnuts
DataDirect pumps petabytes into supers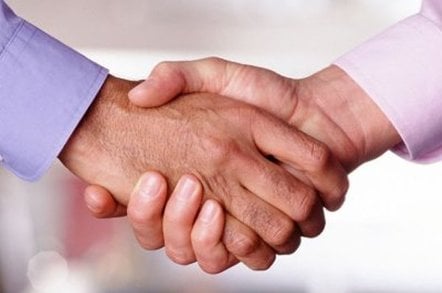 DataDirect Networks customers can grow capacity with fewer racks and enclosures because it has upped the drive count from 60 to 84 drives in its new SFA12K storage products for the big data markets.
Just two months after boosting its SFA10K line DDN has come out with even denser storage arrays. There are three products and they share the new StorageScaler 8460 enclosure, which is 4U deep just like the existing SKA10K products but has an extra 24 drives in it. These can be 2.5in or 3.5in SAS or SATA hard disk drives for multi-level-cell flash SSDs. The enclosures sport an internal fabric, branded Storage Fusion by DDN, with up to 160 dedicated 6Gbit/s SAS lanes.
The Munich-based Leibniz Supercomputing Center (LRZ) has selected this Storage Fusion architecture for its new IBM-designed SuperMUC supercomputer, which be the fastest European supercomputer when it's operational at 3 petaflops. There is another DDN-IBM connection as the US Argonne National Laboratory is also using DDN storage with its upcoming 10 petaflop BlueGene/Q system.
It's claimed the SFA12K-40 pumps data in or out at up to 40GB/sec and do 1.4 million IOPS if flash drives are used. DDN says it is the world's fastest big data storage system.
A cost-optimised SFA12K-20 model does 20GB/sec and 700,000 flash IOPS. The SFA12K-20E does the same and can run applications, such as DDN's ExaScaler and GridScaler parallel file systems, in its X86-based controller complex, called In-Storage processing. DDN says customers' software can run on what are effectively servers embedded in the SFA12K-20E array.
All three SFA12K products are limited to a maximum of 840 drives, which will rise to 1,680 drives at some date in the future. They all have FDR InfiniBand connectivity, with the 20E packing 40Gbit/s Ethernet as well. The -20 and -40 will get 16Gbit/s Fibre Channel in the second half of 2012, that being at least eight months away and possibly longer, maybe up to 14 months. A long time, basically.
DDN claims it has up to five times the storage density of NetApp E5400 and EMC VNX arrays. It manages SATA drives in such a way that it says it can reduce drive replacements by up to 80 per cent.
The ExaScaler file system has been given a graphical interface management tool to simplify and help automate management functions. GridScaler can now scale to more than 10PB in a single volume and supports both Linux and Windows clients.
SFA12K systems and SFA12K-based configurations of ExaScaler and GridScaler will be available in Q2 2012 and can be pre-ordered now. ®