Nazi Star Trek episode finally broadcast in Germany
ST:SS aired after watershed
German television has finally aired an episode of Star Trek, which was previously held from broadcast due to a Nazi theme that ran throughout.
Filmed in 1968 for the second season of the original series, Patterns of Force features Kirk and Spock dressed in Nazi uniforms, trying to blend into a planet overrun by aliens that look and act exactly like Hitler's henchmen.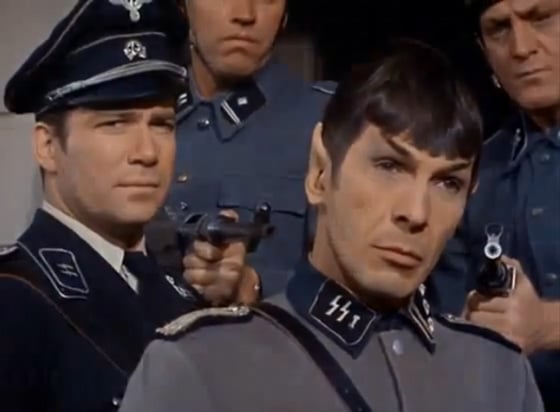 The locals, taught Nazi order by a renegade Star Fleet officer in a bid to make the trains run on time, end up adopting the full spectrum of bad authoritarian behaviour, including intolerance, despotism and racism, and set themselves on a mission to destroy neighbouring planet Zeon. Hmm.
When Star Trek was first aired in Germany, TV channel ZDF held the rights and though there were no laws banning the episode's broadcast, the station decided Patterns of Force should not be shown.
Now, 43 years later, the same station has changed its opinion, broadcasting Patterns of Force dubbed into the local lingo. Even then, though, it was played after 10pm, with viewers strictly warned that no one under the age of 16 should watch it.
The episode has apparently only previously been offered to German audiences by means of a 1995 VHS release. ®
Sponsored: Becoming a Pragmatic Security Leader