AMD revs up server channel for Opteron 6200 push
Time to start thinking outside of the same old box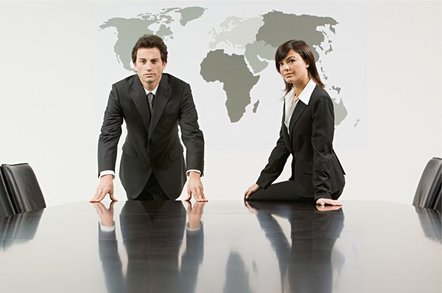 Chipmaker AMD is getting ready to launch its "Interlagos" line of server processors, which are expected to be called the Opteron 6200s. AMD won't say when the launch is, but it is saying that its server channel is primed and pumped to get peddling.
These 16-core Interlagos beasts are really two eight-core chips that share the same socket – but that's not what is important right now. What is important is that the Opteron 6200s share the same G34 sockets as the existing Opteron 6100 processors, and are therefore not disruptive to motherboard makers and system peddlers.
Keeping the same sockets means, in theory, that AMD should not be at a disadvantage to rival Intel as it was when the 12-core "Magny-Cours" Opteron 6100s launched in March 2010. Intel had done its socket swap and cloning of the Opteron chips with the "Nehalem-EP" Xeon 5500s a year earlier, and was able to skate through the server boom at the other side of the Great Recession with the same system motherboards.
Server makers knew a socket transition was coming with the AMD line, and Oracle left AMD out in the cold to save money in the wake of buying Sun Microsystems, and IBM barely spared AMD a warm and tattered blanket with a single quad-socket System x machine. HP and Dell did a reasonable job putting out Opteron 6100 machines in blades and racks, and Acer – which was trying to convert its Gateway acquisition into a server vendor – tried to use Opteron 6100s as a lever into European and US data centers but has largely failed thus far.
The timing of the AMD Rev F-to-G34 socket transition could not have been worse.
And here we are, nearly three years later, and the fact that AMD might be sticking with the G34 socket with the Interlagos may not help its competitive position all that much. Issues with the quad-core "Barcelona" Opteron 8300 series made server-makers jumpy about supporting AMD enthusiastically.
And then Intel closed the gap in terms of providing a point-to-point interconnect for cores and main memory that was similar to that offered by AMD with the Opterons. When the bit-ness and performance gaps close, Intel is the safer bet, even if AMD did – and continues to – offer the best bang for the buck for a lot of x86 workloads.
It is nonetheless AMD's job to try to build as much excitement as possible for its forthcoming Opteron 6200s, so it duly put out a statement saying that motherboard makers Asus, Super Micro, and Tyan will be ready with "fully validated and rigorously tested" motherboards on Interlagos launch day.
This, however, is almost so by definition, with the BIOS needing to be tweaked, and maybe some new drivers written for the new chips. AMD is also touting the fact that system distributors ASI, Avnet, Ingram Micro, Supercom, and Synnex (famous for being the company that manufactures Facebook's home-designed Open Compute servers) will have systems ready to go on day one, as well.
You'll notice that HP, Dell, IBM, and Acer were not mentioned in AMD's list. This is no doubt more because AMD wants to show some love to the motherboard makers and distributors than it is an indication that those tier-one server makers are abandoning the Opteron and going whole hog for Xeons.
That said, if AMD wants to compete better against Intel in the server racket – and new CEO Rory Read knows the company must do this – then it needs to get Cisco Systems, Oracle, Fujitsu, NEC, and a whole bunch of other whitebox vendors into the Opteron fold. And that will only be done by offering a truly compelling product, like the original Opterons were compared to the Xeons of 2004 through 2007.
It would also be nice if there were fewer socket upgrades, too, but it might be impractical to set the sockets in stone for longer than two chip generations.
AMD probably also needs to give some serious consideration to creating APU versions of Opteron servers, or putting GPUs in an Opteron socket itself and using them as accelerators for the CPUs if creating an Opteron APU doesn't make sense. AMD might be wise to buy ScaleMP, which provides a means of creating shared memory systems out of multi-node clusters, and putting support for such directly in the iron.
In short, AMD needs to do the things that Intel isn't doing – or at least isn't doing well.
More than anything else, perhaps, AMD needs to get its fab partner GlobalFoundries ramping up its wafer-baking technology and getting closer to parity with Intel, which has a huge process leap over everyone else in the server processor racket these days. As long as Intel has the process lead, it will have the feature lead and the clock-speed lead.
Basically, AMD doesn't have to fix its server chip business so much as its foundry relations. ®
Sponsored: Minds Mastering Machines - Call for papers now open