Honda upgrades humanoid robot to SERVE BEER
Asimo gets voice, face recognition too
Honda's stair-climbing robot, Asimo, has resurfaced now that its developer has given the 'droid the ability to recognise faces and voices, and to pour drinks.
So it can take orders, spot the regulars and serve beer. Just what's needed down my local.
Honda said all this had come about because it had upgraded the intelligence and abilities of its plastic pal - who's fun to be with - tenfold.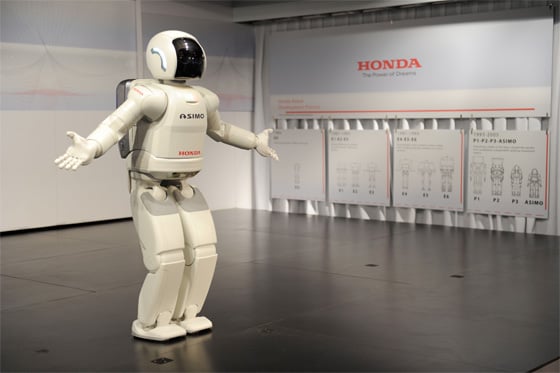 Asimo can now understand multiple voices, differentiating between different speakers even while they talk simultaneously. It'll recognise faces too, as well as respond to the movement of those around it, predicting the direction in which a person is about to walk in order to avoid a collision.
So none of those awkward, which-way-you-goin' moments that humans suffer from when passing in the corridor, then.
On top of that, Asimo's task performance has seen renovation, with the robot now able to hold and pour drinks. This is achieved through Asimo's multi-fingered hand with various built-in sensors.
Each finger moves independently and by utilising visual and tactile senses, Asimo is able to twist the cap off a bottle of wine or beer and pour it into a paper cup without crushing the container or spilling the liquid.
This new dexterous hand means Asimo can talk to the deaf too and learn sign language. Other betterments include a walking-speed upgrade to 9km/h from the previous 6km/h. It now has 57 degrees of movement freedom, up from 23.
Since we first reported Asimo's abilities back in 2000, the droid keeps getting more and more human-like. Perhaps it won't be long before he starts appearing in homes as a robot butler like those in the Woody Allen film Sleeper.
Next thing you know, he'll have his own Twitter page. Oh, wait a minute… ®
Sponsored: Becoming a Pragmatic Security Leader