NASA deep-space ship gets 2014 unmanned test flight
'We're still going to the Moon, not listening to Obama'
NASA has announced that it will test-fly its pork-tastic Orion spaceship, conceived under the Bush administration for the purpose of carrying astronauts to the Moon once more and now rebranded as a "deep space" vessel for trips to asteroids and perhaps one day Mars.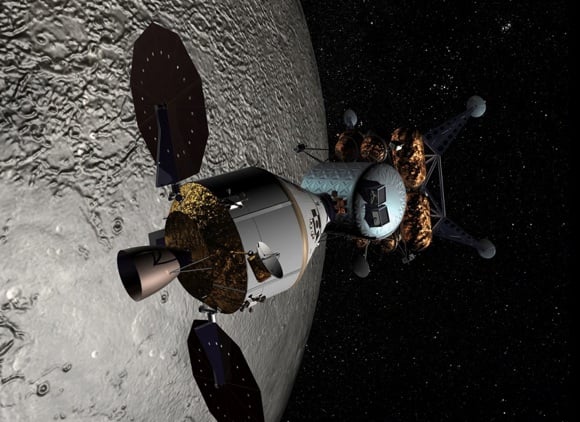 Apparently this is still on, according to NASA.
The agency said it would add an unmanned flight test of the craft in early 2014 to its contract with Lockheed Martin Space Systems.
"This test supports the new Space Launch System (SLS) that will take astronauts farther into space than ever before, create US jobs, and provide the cornerstone for America's future human spaceflight efforts," NASA said. However the SLS will not be ready in 2014 - indeed there are grave doubts as to whether the space agency can afford it at all - and the test will have to make use of an existing heavy lift rocket.
At present there is no rocket capable of carrying Orion and rated safe to lift astronauts (as opposed to unmanned kit) in the US armoury. However there may be by 2014: famous techbiz visionary Elon Musk says his upstart firm SpaceX will launch its Falcon Heavy, which is billed as man-rated, in "late 2013 or 2014."
As Lockheed is part of United Launch Alliance, the monopoly which has provided almost all US space lift other than the shuttle in recent times, one can be fairly sure the Falcon Heavy won't be lifting the 2014 Orion. A ULA rocket such as the Delta IV Heavy would be more likely.
The 2014 flight test, dubbed EFT-1, will fly around the planet twice, before a high-energy re-entry through the atmosphere and a water landing. The agency said the ship would "be recovered using operations planned for future human exploration missions".
"The entry part of the test will produce data needed to develop a spacecraft capable of surviving speeds greater than 20,000 mph and safely return astronauts from beyond Earth orbit," associate administrator for Human Exploration and Operations William Gerstenmaier said in a canned statement.
"This test is very important to the detailed design process in terms of the data we expect to receive."
Another goal of the test is to help reduce the cost and schedule risks of exploration missions, the agency said.
Oddly, since US President Obama has said there will be no manned return to the moon, NASA stated today that the Orion spacecraft would eventually launch astronauts to the moon as well as to asteroids, Mars and other destinations. ®
Sponsored: How to get more from MicroStrategy by optimising your data stack