Longhorns on top in kid cluster compo
We look at the odds in computer sport smackdown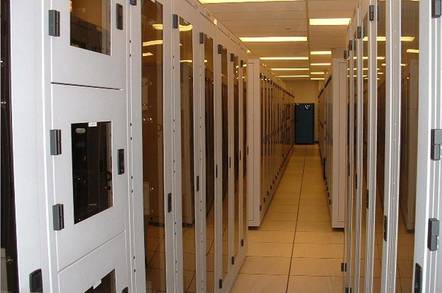 SC11 There have been some big changes in the odds since we opened up the Student Cluster Competition (SCC) 2011 betting pool to the public. (For details on the SCC and the teams, click here.) The betting has tightened up the field as SCC fans pick their favorites to win both the Overall Prize and the LINPACK portions of the fight.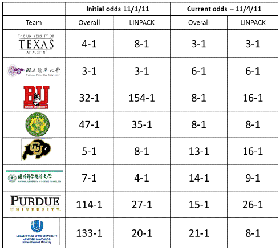 Here are the odds (click to enlarge).
Punters still see Texas as the team to beat, putting the odds of a Longhorn overall win and LINPACK win at 3-1. The attitude of Team Texas and their supporters is summed up with this comment from a Longhorn bettor: "We're Texas. Don't mess with Texas."
Team Taiwan, the 2010 Overall champs, slips a bit. Bettors rate their chances to repeat at 6-1 for both the Overall and LINPACK.
"Team Taiwan was the best prepared last year and this will be the case again at SC11," one Team Taiwan fan told El Reg. "No one can beat these guys, I'm telling you!"
Boston University and the Costa Rica Rainforest Eagles are rated top-tier competitors at 8-1 odds for the Overall win. This is more than a little surprising given that SCC11 is the first competition for both teams. Could it be that punters are betting more with their hearts than their heads?
Early wagering gave Colorado and NUDT (Team China) better chances of winning, but they've seen a bit of their glow fade as bettors reduce their chances at the big win to 13-1 and 14-1 respectively. Again, a bit of a surprise; Colorado is fielding the most experienced team in the competition, and the NUDT team is from the same organisation that built the 2.5 PetaFLOP Tianhe supercomputer.
One of the bettors made some interesting points about Colorado and Team China: "The winner of the LINPACK never wins the overall challenge. It is often a mistake of newcomers to focus on LINPACK, which I think will be the fate of Team China. I think Colorado will be very hungry this year to win and could finally take the gold."
Purdue, another highly experienced team, is rated only a 15-1 shot to take it all and a 26-1 shot to win the LINPACK benchmark – which makes them the pick of the day for the discerning gambler who's looking for a solid bet with a potentially big return. Purdue has loyal fans, including this one who gives a simple "Go Boilermakers! (I worked in their CS department a couple of decades ago.)"
Bettors give Team Russia only a 21-1 chance of winning the whole thing, but much better 8-1 odds of taking LINPACK. They might be overlooking the fact that this is an experienced team with a new sense of purpose, driven by a coach who doesn't want to settle for second best. They're one of the teams to watch this year.
You can still get in on the betting and lay down a virtual $1,000 on your favorite team or teams. We'll keep the betting open throughout the week and provide updated reports as the odds change. ®