Greens threaten to sue over solar power cash slash
FiT hit leaves FoE in a fit
While there's been growing discussion of a "Robin Hood Tax" recently, its very antithesis was quietly introduced last year: a Reverse Robin Hood Tax. This entails a wealth transfer from the poor to the middle classes – and the means is a market-rigging mechanism that ensures that the energy we use is much more expensive than it needs to be. Via a feed-in tariff (FiT), the government guarantees to buy the domestically-produced output of solar photovoltaic cells at a huge markup over the market rate.
The cost is then picked up by Britain's poorest households, who pay proportionately more than their wealthier neighbours. And because poor households don't have spare capital lying around to cash in themselves, they pay the subsidies and see no benefits.
Not surprisingly, it's been hugely successful: it prints money for the middle classes. But it's also become very expensive. The government has proposed cutting the Reverse Robin Hood Tax, but not abolishing it altogether. It could have promised to buy the solar PV electricity at market prices, but will continue to buy it at twice the market rate. So this still leaves the fundamental regressive wealth transfer in place.
Big Green lobby group Friends of the Earth (FoE) has threatened to sue the government for cutting the tariffs.
"The government is breaking the law with its plans to fast-track a solar industry kill-off – as well as jeopardising thousands of jobs and countless clean energy projects across the country," said Friends of the Earth's Policy and Campaigns Director, FoE's Craig Bennett, we learn via Business Green.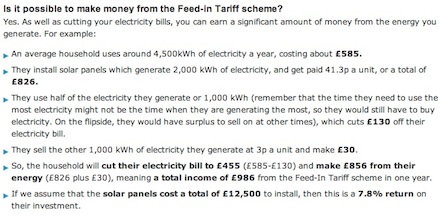 USwitch explains ...

Yes. That's the idea.
The fundamental constraint here is technological; small solar installations in a gloomy North European country simply aren't very good – the electricity they produce is going to take a long time to pay back.
The idea is to reduce CO2 emissions, at any cost to the population. But if that's the goal, there are many ways of arriving there.
Over the past decade, the United States has cut its CO2 emissions by 1.7 per cent. It is cutting them faster than Europe, which has enormous mandates about renewable energy. And it is doing so because of cheap, local gas. Meanwhile, the UK's CO2 emissions rose by 3.5 per cent, far higher than GDP growth of 1.3 per cent.
Green groups currently view shale gas as an enemy. As MPs reminded them last week, "Perfect is the Enemy of Good." By insisting on expensive and entirely symbolic renewable energy projects, despite the cost to the poor, they do nothing for the "planet", whose "health" they profess to put above all other considerations. ®
Sponsored: How to Process, Wrangle, Analyze and Visualize your Data with Three Complementary Tools