Martian simnauts emerge from spaceship outside Moscow
520-day red planet odyssey complete at last
Six men who have spent the last 520 days sealed up inside a mock spacecraft outside Moscow simulating a mission to Mars have finally completed their task and emerged once more.
"Thank you very much for your outstanding effort," said Jean-Jacques Dordain, director general of the European Space Agency (ESA) after the crew stepped from their module.
"I welcome the courage, determination and generosity of these young people who have devoted almost two years of their lives to this project, for the progress of human space exploration."
Had the men actually completed a real Mars mission, there can be little doubt that Dordain would have been on hand to greet them as soon as landing and recovery were complete. However in this case he settled for sending a greeting from Paris to Diego Urbina and Romain Charles from Europe, Sukhrob Kamolov, Alexey Sitev and Alexandr Smoleevskiy from Russia, and Wang Yue from China.
"I'm proud to prove, with my international crewmates, that a human journey to the red planet is feasible," enthused France's Romain Charles, one of the dauntless six.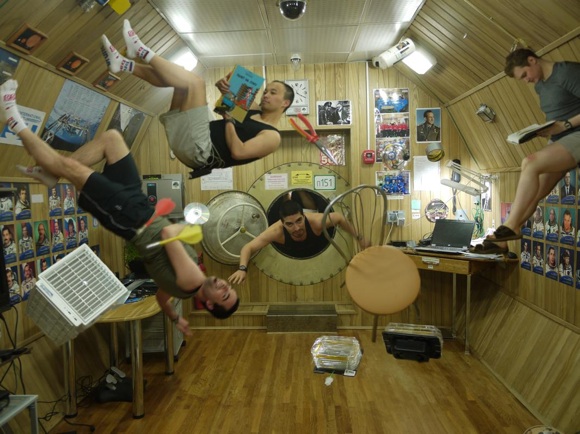 Realistic interplanetary wooden spaceship action.
The lengthy simulation saw the denizens of the simulator experience lengthy communications delays with the outside, as occurs for real with radio signals travelling across the void between Earth and far-flung spacecraft. The experience was made as realistic as possible, but plainly this didn't extend to low- or zero-gravity (1 April datelined pic notwithstanding) nor to bathing the simnauts in radiation to simulate the effects of the solar storms and cosmic rays beyond Earth's protective magnetic fields.
"We have all acquired a lot of valuable experience that will help in designing and planning future missions to Mars," Charles added. "We're ready to embark on the next spaceship going there!"
The likeliest prospect for a manned Mars mission at the moment is the USA, where President Obama has stated that boots on the red planet are a national aspiration. NASA has laid out plans for a giant lifting rocket based on Space Shuttle technology that could perhaps put such a mission into space, and has rebranded its Orion moonship as a "deep space" vessel.
However there are grave doubts as to whether NASA's budget can in fact cover the proposed Space Launch System and Orion as well as other existing commitments: let alone whether it can stretch still further to other vital parts of a manned Mars attempt such as lander and service modules.
Things could change, of course. Upstart startup rocket company SpaceX, helmed by famed techbiz visionary Elon Musk, may manage to steal the established US rocket industry's lunch and deliver vastly cheaper spacecraft using its new hydrocarbon boosters. US politicians may then abandon porkbarrel politics in a bloodbath of job losses and transfer funding away from the sprawling government and industry workforces behind the SLS, Orion etc to leaner and more modern organisations and technology. Everything may change, and Mars ships may head out from Earth in no more than a decade or so.
As things stand however, a manned Mars voyage even as soon as the 2030s looks like a doubtful prospect. Charles and his colleagues - even if they were eligible for a NASA mission, which is dubious - could be waiting an awfully long time for their genuine interplanetary ship. ®