Groupon's IPO: don't get too excited about 30% rise
Tech stock history: excitement followed by yawns
When The Reg reported on Friday morning that the stock price of daily-deals coupon-monger Groupon was hovering at $27.85 two hours after going on sale at $20, we noted that if it stayed at that level, the company would be worth $15.7bn when NASDAQ shut down for the day.
We were close – well, if you can call one billion simoleons "close".
At the end of trading, Groupon's stock stood at $26.11, which puts the company's valuation at $14.7bn. As of 6pm Eastern time, after-hours trading had pushed the stock up to $26.48, sloshing another $200m or so into the pockets of CEO Andrew Mason and his friends.
Over the course of the trading day, Groupon's share price rose by a cool 30.55 per cent over its $20 opening.
Not too shabby. But not as impressive as LinkedIn's May 19 IPO, which was offered at $45, then rose as much as 171 per cent to $122.70 before settling down to $94.25 – a mere 109 per cent gain. LinkedIn closed on Friday at $82.37.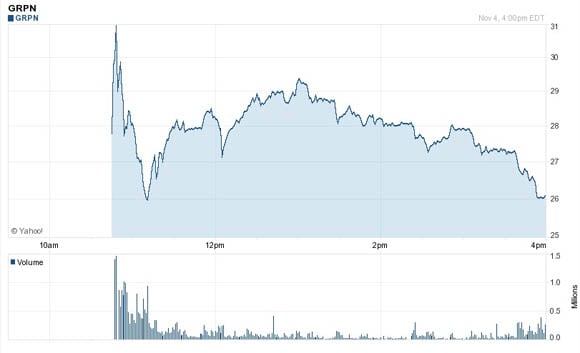 Friday was quite the roller-coastery day for Groupon's share price (source: Yahoo! Finance – click to enlarge)
At the end of its first day as a publicly traded company, however, LinkedIn was worth just south of $9bn – quite far south of Groupon's $14.7bn.
Other tech stocks have had wild-ride IPOs, as well. Real-estate site Zillow, for example, shot up as much as 120 per cent after it was first offered for $20 on July 20, but cooled down to a more reasonable – but still impressive – 79 per cent gain by the end of its first day, closing at $35.77. Zillow ended Friday at $32.63.
When Pandora went public on June 15, it also soared then settled – although the soaring was more modest and the settling more, well, settled: it's top price was about 63 per cent above its initial $16, and it closed at $17.42, which was a gain of a mere 8.9 per cent. This Friday, Pandora closed at $15.22.
You have noticed the pattern of those IPO closes and Friday's closes, haven't you?
One of the more interesting comparisons of all these turbulent first days is to be made with the 800-pound gorilla of the internet, Google. On its first day of trading, August 19, 2004, its shares rose from their opening price of $85 to close at $100.34 – an 18 per cent rise.
Since then, however, Google has seen its share price swell to – at Friday's close – $596.14. That's a rise of just over 600 per cent over its initial offering, a level of performance that The Reg predicts will be elusive to Groupon.
What's more, it's good to keep in mind one telling bit of data that MarketWatch pointed out after all the buzz began to settle following Friday's market close: "Groupon's [price/earnings] ratio is infinity, since it is losing money." ®
Sponsored: Your Guide to Becoming Truly Data-Driven with Unrivalled Data Analytics Performance