Fujitsu boffins send DAN into storage fight
Disk Area Network tightly trusses disks to CPUs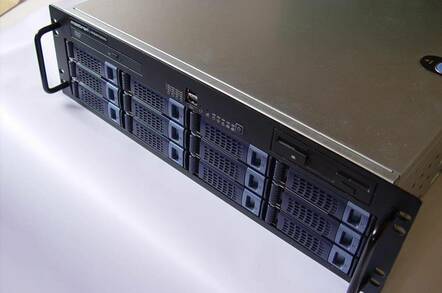 Has Fujitsu issued a DAN dare to the networked storage industry, challenging its entire existence?
Fujitsu Laboratories in Kawasaki, Japan, has re-envisioned network storage by implementing it as a disk-area network co-located with CPUs and memory to make multiple configurable servers out of compute and storage pools.
The server sages perceived that current storage designs are inflexible; the compute and storage components used in a database system cannot be used in a web services system and neither can be used in an HPC scenario. Yet the basic compute engines - X86 processors and DRAM - and storage engines - commodity hardware-based arrays and hard disk drives - are pretty much the same.
What would happen, they asked themselves, if we made all the disks local to the compute engines and used pool management software and other middleware to connect the two pools of disk and compute resources?
They instituted what they called a DAN, a disk-area network, built from a prototype interconnect running at 6Gbit/s so that the CPUs get a level of performance from the disks as if they were directly attached; the disk I/O performance for one CPU is not affected other CPUs.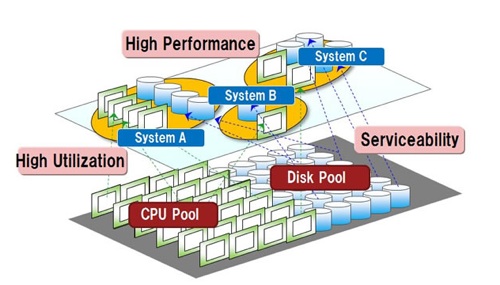 Resource pool architecture
Then, from one pair of CPU and disk pools it's possible to carve out and partition different server-storage configurations that can operate simultaneously. Simplistically, a high-performance big data config uses lots of CPU and less disk; a database has a medium amount of both with proportionately more disk; and a web services configuration has more disk than CPU. The configurations can be changed dynamically as the data centre requires: the services it has to deliver change according to circumstances.
The company states: "In comparison with typical system configurations tailored to traditional web services, the new prototype delivered a benchmark performance of approximately four times higher I/O throughput as well as increased performance of about 40 per cent when running actual applications."
The system software is crucial as it constructs compute-storage personalities for the application areas. Fujitsu boffins say: "The pool management feature allows for necessary resources to be allocated from the pool, the deployment of operating system and middleware resources, and the on-demand provision of servers in a required configuration."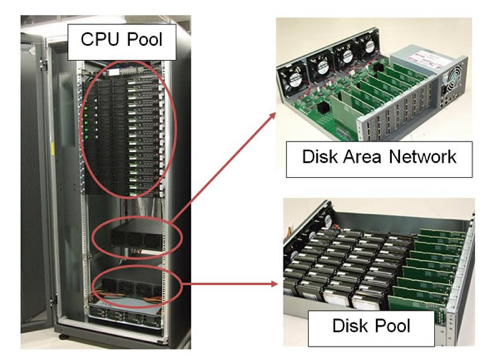 Dan hardware view
The middleware is described like this: "Using server resources from the pool, storage capabilities are delivered by configuring the middleware, which controls hard drive management and data management functions. Whether it is a server with multiple local disks tailored for large-scale data processing tasks, or RAID functions for improved data reliability, the system can be flexibly configured to meet performance and power consumption requirements."
This overall architecture enables dynamic configuration flexibility, the ability to accommodate peaks and troughs in demand for different recourse, and the ability to route around failed components.
Just as a side thought, imagine HP's Moonshot ideas combined with drive shelves, a high-speed interconnect and similar system software. Intriguing, no?
Fujitsu Labs intends to launch the technology commercially in 2013. ®