Ultrabook sales 'falling short of targets'
'Never buy version 1.0' rule in play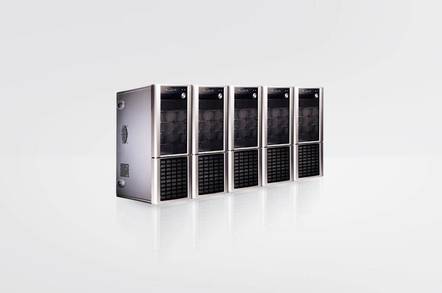 Those slim, svelte, sexy ultrabooks that Intel has been flogging may be having a hard time finding buyers due to their relatively high prices.
So say sources speaking with the Taiwanese market-watchers at DigiTimes, which reported on Monday that both Acer and Asustek, which had expected to sell between 200,000 and 300,000 of the li'l fellow this year, have revised their sales estimates to about 100,000 units each.
According to DigiTimes, the 11.6- and 13.6-in Asustek ultrabooks are available in Taiwan for around $1,200 and $1,675, and the $1,000 model that's available in the US is not available in Taiwan.
Those prices are a far cry from that of the ultrabook's predecessor and archetype, Apple's MacBook Air, which starts at $999 and $1,299 for models with the same size displays as Asustek's skinny notebooks.
The 13.3-inch Acer Aspire S3 beats the 13.3-inch MacBook Air in the US by a full four hundred bucks, but DigiTimes notes that in Taiwan it runs $1,101, shinking that margin shrinks to less than one hundred.
Actually, DigiTimes confuses the price of the 13.3-inch MacBook Air with that of its 11.6-inch sibling, but we'll note that and move on.
The ultrabook concept – Ultrabook™, actually, since Intel has trademarked the name – was first introduced this May by Intel CEO Paul Otellini at an investors' gathering. The light, slim notebooks were later described by Otellini as "a very holistic approach to moving the entire market to a different kind of form factor."
Intel has a lot invested in the ultrabook – in cash as well as hope. For example, the company has opend a $300m Intel Capital Ultrabook Fund to entice partners to join the ultrabook campaign.
Intel is not the only company who is hoping that ultrabooks will increase the sales of its products. Microsoft, buffeted by the tablet canibalization effect, has said that it hopes ultrabooks will boost Windows sales.
Intel has said that holiday shoppers will find ultrabooks on store shelves later this year, but as The Reg has pointed out, smart shoppers might do well to wait until the skinny fellows come equipped with Intel's 22nm "Ivy Bridge" processor next year.
Keep your eye on what sylphlike notebooks might appear at this January's Consumer Electronics Show in Las Vegas – that's where, for example, Dell and HP may introduce their Ivy Bridge ultrabooks – although recent reports point to delays.
And if sales of current Acer and Asustek ultrabooks remain low, you might be able to snap up one of those first-generation models on the cheap at a post-holiday fire sale. ®
Sponsored: Webcast: Why you need managed detection and response