'Social' TV app Zeebox goes live
iPlayer guru's next big thing
As of this morning anyone can try Zeebox, the new interactive TV venture from Anthony Rose. Rose rescued the BBC's iPlayer and was chief techie behind YouView, formerly Project Canvas – prior to that he was Kazaa's CTO.
Zeebox works both as a TV remote control and a mobile app, providing a backchannel to live TV via the web. An iPad Zeebox app is available for immediate download, with more mobile versions to follow. Virgin isn't yet fully supported, but it can be used with FreeView and Sky.
The idea of interactive feedback isn't new: Tellybug already does a clapometer for shows such as The X-Factor and Britain's Got Talent. But the Zeebox can do quite a bit more than chat and real-time feedback. It knows what's on TV. It can also be left running, aggregating data the company hopes will be useful to advertisers and TV companies.
If the remote works as promised – we haven't tried it yet – it stands a good chance of becoming a valuable business, as the main portal for the "second screen", with people engaging via laptops or mobile devices while they watch TV. People already do this, but it's messy. And in the future it isn't hard to imagine people flipping through tags on a mobile, rather than channel surfing, to see what's on.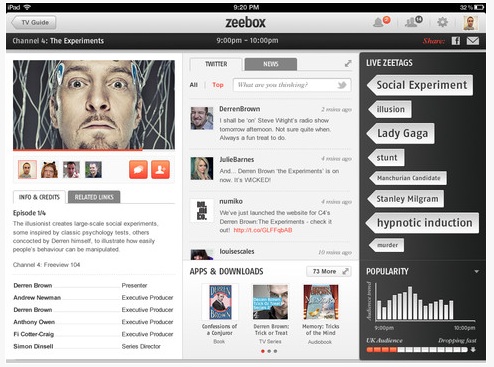 A bit of Zeebox
It's some way short of being the perfect TV app – that would record shows for later and allow you to retrieve them – but it is very well done.
You can start here. ®