Microsoft cuts Azure storage pricing
Shaves one cent per gigabyte, with volume discounts
Microsoft has announced a series of changes in the pricing of its Azure storage service, with a tiny cut for everyone and big discounts for volume customers.
Redmond has announced a general price cut of one cent per gigabyte, from 15 to 14 cents per month for those storing under a terabyte of data. This drops to 12.5 cents for those using up to 50TB, and then down to 11.2 cents per gigabyte per month for volumes over 500TB.
Those with up to a petabyte of storage will pay 10.2 cents per gigabyte per month, and the lowest rate of 8.5 cents is available to users of up to five petabytes, with further discounts possible if they are prepared to negotiate with Redmond's salespeople. All these prices aren't graduated, so as long as you hit the right storage mark then all the data is priced at the cheapest level possible.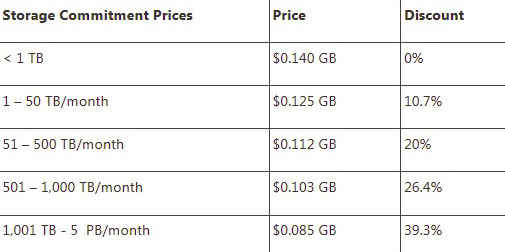 The new Azure discounts will mean big savings – for some
"At [the five-petabyte] level and beyond, we want to work with customers directly to ensure we understand their business needs and will price accordingly," Microsoft told The Register.
Microsoft wouldn't say how many of its customers are in this mega-user category, other than a comment than to say it was "a significant number", and that Redmond was pleased so many people were using Azure storage – so no surprises there. ®
Sponsored: How to get more from MicroStrategy by optimising your data stack