Review Audio dock maker Soundfreaq recently released an Android version of its iOS remote control app and is now busy promoting its Bluetooth-equipped Soundstep as something for 'droid-heads as well as iFans.

Looks good, sounds good: Soundfreaq's Soundstep Recharge SFQ-02RB
For a mid-range audio device, the Soundstep looks rather slick. The speakers are housed in a semi-glossy finish black plastic box while the controls reside on the step in front, hence the name. Flip the unit over and you will find a small remote control tucked away into a bay, so iDevice users can control their tunes from across the room when docked. It's a nice idea, keeping the remote safe and sound when not needed.
Measuring up at 330 x 92 x 113mm, the Soundstep is certainly small enough for its intended role, sat on a desk or a kitchen work surface or a bathroom shelf. At 1.23kg, it's not what you could call heavy either. The build quality is impressive – even though it's all made from plastic – but it's very solid. The uniform black finish, black cloth speaker cover and orange lighting - including a bright LED bar in front of the dock connector - all combine to belie its £150 price tag.

The USB port enables device charging
Music can be fed to the unit through the iOS 30-pin dock connector or the 3.5mm auxiliary jack. If you want to transmit your tunes wirelessly it has to be with Bluetooth, since there's no support for Apple AirPlay. There are no mounting adapters but an iPhone 4 sat securely enough on the dock and the connector is flanked by rubberised iPad supports. To keep things looking ship-shape, there's a rubber cap to cover the dock connector when it's not being used.
Around the back you will find a composite video output and a USB port for charging non-Apple kit. On the step in front of the dock sit a row of touch-sensitive buttons that respond to even the gentlest of caresses.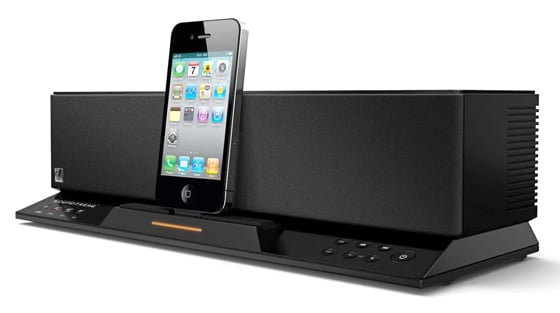 Beside iOS device docking there's an aux input and Bluetooth streaming
To the left of the dock you'll find four buttons to swap between the dock, Bluetooth and the auxiliary input and to activate Soundfreaq's UQ3 audio enhancement. Buttons for power, volume, track skip, play/pause and Bluetooth pairing are all located on the other side.

Sponsored: Webcast: Ransomware has gone nuclear