VI and Brocade in SAN-monitoring DEATH MATCH!
CEO opens email war front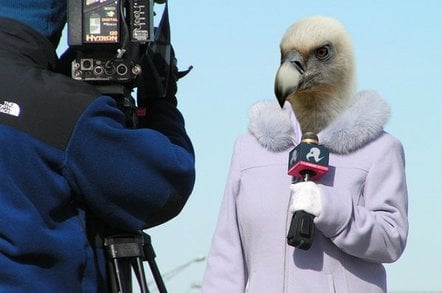 Virtual Instruments' former partner Brocade is "trying to put VI out of business" VI's marketing VP Len Rosenthal says, as a private disagreement becomes a messy and public dispute.
Brocade's CEO Michael Klayko received an emailed rebuke from VI CEO John Thompson, who said Brocade should not be "working to stall or cripple young upstarts." This was sent by direct email to Klayko five days ago, on 20 October, and it has now been made public.
The background is that Virtual Instruments (VI) Linux/Tsunamisupplies VirtualWisdom monitoring and test equipment for Fibre Channel SANs, with the bulk of SAN switches and directors supplied by Brocade and Cisco. VI has been working with both companies, and has enjoyed a three-year partnership with Brocade.
But Brocade has its own SAN monitoring and managing products and services, such as SAN Health and NET Health. It has presented this as an open technology, saying that SAN Health "now supports Cisco MDS switches". These capabilities are being evangelised to Brocade's customer base.
Rosenthal says: "Brocade has been proactively contacting [its] installed base and trying to scare them away from deploying our VirtualWisdom hardware and software SAN monitoring products by spreading serious lies about VI – even publishing Technical Support Bulletins (TSBs) that claim VI can cause Brocade SAN instability problems."
He rubbishes this idea, saying VI has "over 100 deployments in large Brocade shops without a single Brocade interoperability issue".
Brocade has also complained to VI about the hiring of its staff and requested it stop doing so. VI's response has been that such a request represents "potentially illegal and unfair competition". It points out that the US Justice Department has outlawed such requests in the past.
As Brocade is the leading Fibre Channel SAN fabric supplier, any discouragement by Brocade for its installed base to buy VI products is potentially a business-crippling issue for VI. Rosenthal says: "This is approaching the point where [we] will need to contemplate legal action."
He adds: "After three years of partnering with Virtual Instruments, Brocade has suddenly done an about face and now views VI as a direct competitor. Brocade, a 4,000+ employee company, appears to be very scared of 130+ person Virtual Instruments, which has revenues of about 2 per cent of Brocade's."
Brocade UK and Ireland Country Manager Marcus Jewell said: "A great deal of the VI value proposition is now free within our management software. That's not suggesting that VI has no value but it does seem to be expensive for what it delivers. I am sure VI will address this with new features in future releases."
Brocade's John Noh, senior director for global public and analyst relations, said: "We have no comment on the contents of this letter; however, we are disappointed that this company has chosen to air its grievances in this manner."
The full email text
From: John Thompson
Sent: Thursday, October 20, 2011 1:35 PM
To: [address omitted]
Subject: So, Now We are Competitors…
Mike,
Thanks for taking the time to chat with me yesterday morning. And, while I'm disappointed in the new position the Brocade team has taken on Virtual Instruments as a competitor, we will respect your decision and act accordingly. After spending a fair amount of time thinking about our discussion, I thought I'd share my thoughts with you directly.
The irony of all of this is that our relationship has had many inflection points. But, I am most struck by the hard work done by both teams during 2010 and early 2011 to create a cooperative marketing agreement where we would jointly provide expert services to our mutual customers using our technology to identify performance and availability challenges in their environments. In hindsight, our willingness to share our operating plans and go-to-market approach was obviously our mistake, even though we were operating under the strict NDA that prohibited you from making any other use of the information we provided to you. Your subsequent announcement of similar planned capabilities within the Brocade product suite should have been a clear signal to us that a change in our relationship was forthcoming. This sudden change in Brocade's behaviour toward a former partner raises obvious question about your true motives, first in gaining access to our confidential information, and then in attempting to disrupt our relationships with customers and partners.
Any competitive battle between market-dominant companies like Brocade and smaller competitors such as Virtual Instruments will always have interesting dynamics. And, as I mentioned yesterday, I hope Brocade will treat Virtual Instruments as it does any other similarly situated company in our space. As such, we would expect your statements to the market, ie, our mutual customers, partners, analysts and potential prospects, to be factual and not intended to unduly disrupt our business or our relationships with partners and customers. To that end, some of the statements we know that Brocade has released to date do not have that spirit of fair competition underpinning them. Therefore, as I requested yesterday, I hope you will review what has been released to date and make the necessary revisions to reflect fairness and accuracy.
Furthermore, we would also expect Brocade to treat us just as you have other companies who offer similar products and services. As the dominant market player in the FC SAN segment, your actions set the tune for the ecosystem around your products and we hope you and your team will operate in an even-handed manner when making statements about our products and services. We expect those statements to be consistent as between us and other companies offering similar products and services in the FC SAN segment.
Your expressed concerns about Virtual Instruments hiring Brocade employees and your request that we not do so represent potentially illegal and unfair competition. As you may recall, a number of our peers in the Valley had to submit to a consent decree with the Justice Department over very similar actions. With only ~130 employees (compared with Brocade's greater than 4,000 employees), your request that we agree not to hire any more employees from Brocade fails to acknowledge your own shortcomings in creating an environment where your employees want to remain with your company. We will continue to work to build our base of employees without targeting Brocade specifically, but recognizing the skill needs we have to build our overall business.
Finally, I had hoped our conversation would have avoided what will now become a potentially messy, competitive campaign between us. Your unwillingness to have your team sit down with mine to sort out any perceived differences was quite disappointing. But, I am prepared to accept your decision and we will manage our actions accordingly.
Our industry has a long history of dominant market players working to stall or cripple young upstarts. We're committed to make sure that doesn't happen to Virtual Instruments and will take whatever actions we deem appropriate to ensure that outcome.
jwt ®
Sponsored: Webcast: Build the next generation of your business in the public cloud