US carrier smartphone sales slip
Android in decline?
Interesting stats have been published by US finance house Morgan Keegan and with then comes a warning for makers of Android handsets: be prepared for a tough Q4.
The figures in question tally smartphone sales made by US network operators AT&T and Verizon. Android sales, while higher than those of the Apple iPhone have been sliding since Q4 2010 - despite, notes Morgan Keegan analyst Tavis McCourt, a huge influx of exciting new Android smartphones from HTC, Samsung, LG and Motorola in the interim.
iPhone sales have been rising through that period and might have surpassed Android handset sales but for Q3's dip, caused by iPhone 4 demand stuttering on the back of iPhone 5 expectations.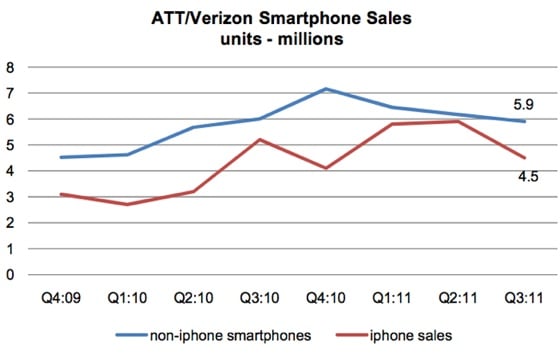 Source: Morgan Keegan
The upshot: in Q3 2011, the two networks sold 5.9m Android phones, down from a peak of around 7.1m in Q4 2010. And they sold 4.5m iPhones, down from a peak of 5.9m in Q2 2011.
Both types of handset experienced rising sales from Q4 2009 up to their peaks, though Apple sales dipped in Q4 2010 in the face of Android's peak.
Can Android pull its apparent decline around? It seems unlikely given demand for the iPhone 4S - 4m of which sold globally in its first weekend.
"We believe slowdown in Android, Blackberry [and Windows Phone] sales at AT&T/Verizon likely indicates a reasonable number of customers choosing not to upgrade in Q3, but rather waiting to switch to the iPhone in Q4," McCourt said, BGR relays.
"The strong initial sales figures for iPhone 4S would seem to back up this assumption."
Indeed, bank UBS separately said this week iPhone sales could hit 42.5m globally during the current quarter as Apple quickly rolls the handset out to 70 countries. Apple sold 17.1m iPhones in Q3.
Of course, if Apple does sell a shed-load of phones in Q4, almost certainly to Android's detriment, it may well come at the cost of sales through subsequent quarters, giving Android opportunities aplenty to retake and extend its lead. ®
Sponsored: How to Process, Wrangle, Analyze and Visualize your Data with Three Complementary Tools