Juniper on the prowl for acquisitions
Mellanox, QLogic, or some Asian kitties?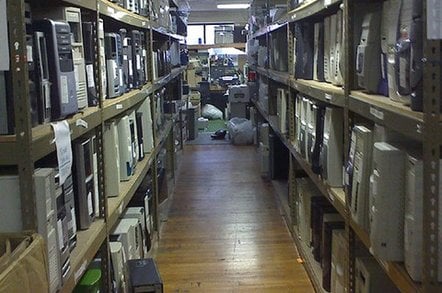 Upstart networking-equipment maker Juniper Networks is on the prowl.
Speaking at a conference in Hong Kong on Monday, Kevin Johnson, Juniper's CEO, said that the company was interested in making targeted acquisitions, specifically in the areas of mobile communications and cloud computing.
According to a report in The Wall Street Journal, Johnson told a questioner that Juniper would make acquisitions if it could find companies that have "strategic alignment" with Juniper's current switching and routing products and roadmaps, and added that he was "very open" to the possibility of snapping up companies in Asia.
As El Reg previously reported, Juniper is sitting on a pile of cash that is $2.72bn high, and has another $632.4m of short-term investments and $775.4m in long-term investments. The company has just under $1bn in long-term debt from a debt offering it did earlier this year, mainly because interest rates are so low. That leaves $4.13bn in cash and equivalents as a potential war chest for Johnson to deploy – although given the uncertainty of the economy, it seems very unlikely that Juniper would dump it all on one big deal.
But some relatively large deals are possible. And the two obvious ones are not Asian companies at all.
It might be interesting to see Juniper snap up Mellanox Technologies, which has a dominant presence in Ethernet and InfiniBand host bus adapters, a solid piece of the InfiniBand switching space, and a growing chunk of the Ethernet racket.
More importantly, Mellanox has done the hard work in the wake of its own $128m acquisition of Voltaire last November to create the switch-hitting SwitchX networking chips that can handle Ethernet, InfiniBand, and Fibre Channel traffic as well as its third generation ConnectX-3 converged adapters.
Mellanox just raised $104.1m by floating 3.45 million shiny new shares on Wall Street, which will be used for general purposes as well as potential acquisitions.
Software giant Oracle has snapped up some more shares of Mellanox, so if Juniper is interested in the InfiniBand space or adapters for servers, it had better get a move on.
Mellanox has a market capitalization of $1.24bn as El Reg goes to press, and is certainly within the budget that Juniper has to make acquisitions. In the past two quarters when Voltaire's numbers were embedded inside of those of Mellanox, it generated $118.4m in revenues and $1.2m in net income. Mellanox lost $1.62m when the Voltaire acquisition went down in the first quarter against a profit of $2.85m in the second quarter.
With a 20 per cent premium – and possibly a bidding war with Oracle – Mellanox could cost Juniper something on the order of $1.6bn, and what it would get is maybe $250m in incremental annual sales and maybe $10m to $15m in net earnings per year going forward if the June 2011 quarter is any guide. (Mellanox undoubtedly wants to do a lot better than that.) The intellectual property in the SwitchX and ConnectX products would have to be pretty valuable to justify the kind of price Mellanox would command based on current Wall Street valuations.
Ditto for QLogic, which is the only other supplier of InfiniBand ASICs and switches in the market right now, and which has a market cap of $1.35bn. Juniper can afford to buy QLogic, which has a sizeable business selling Fibre Channel switches for linking servers to SANs as well as InfiniBand switches for supercomputers and other parallel systems; it dabbles in Ethernet inasmuch as its UA5900 series FC top-of-rack switches, just announced a few weeks ago, can handle 10GE traffic as well, if customers want.
The QLogic product line has a little less overlap with the Juniper product line than does the Mellanox catalog. And a potential QLogic deal by Juniper might be more financially attractive than a Mellanox deal. QLogic has $606.2m in revenues over the past four quarters, and has brought $146.1m of that to the bottom line.
A very large portion of Juniper's business comes from selling routers to telecom carriers and other service providers, so one way of thinking about potential acquisitions that Juniper might make is for niche products that give the company another value-add as they peddle wares to these customers – the $70m acquisition in July 2010 of SMobile Systems, which sells security software for smartphones and tablets running iOS, Android, Symbian, Blackberry, and Windows Mobile, for example.
The April 2010 acquisition of Akeena Networks for $100m, which had created a stack of media streaming and content delivery software, is another kind of deal that Juniper would likely do. The company also snapped up the assets of Blackwave, another video streaming company, last November for an undisclosed amount.
Then again, Juniper has aspirations in the corporate data center and on the campus, too, where its business is smaller. That's why it bought Altor Networks, a provider of security software for virtual servers, last December for $95m, and paid $152m for Trapeze Networks, a provider of wireless LAN management software, a month earlier.
With $4.1bn in cash, Juniper has plenty of options, and they are not limited to Asia – the question to Johnson was framed for Asia, so his answer was framed for Asia.
And it won't be buying consumer electronics companies – that's for sure. ®