Intel, MS destined to remain tablet underdogs
Single-digit marketshares through 2017
Can Intel ever make a major in-road into the tablet market? Not likely, forecasts from market watcher DisplaySearch suggest.
Mind you, even DisplaySearch appears unconvinced by its own charts, headlining its announcement today: "x86 processors and Windows 8 expected to take significant share after 2013."
However, a glance at the researcher's chart shows that, even by 2017, x86 - and that's technically Intel and AMD offerings, not just Intel chips alone - hanging on to a mere 4.9 per cent of 330 million-odd tablets shipping during that year.
World Tablet PC Shipment Forecast by CPU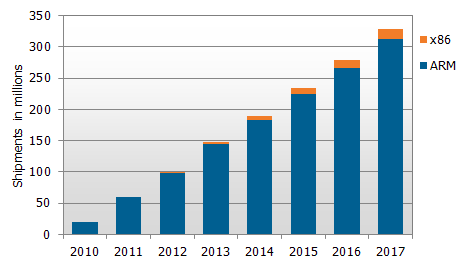 Values in millions of units
Source: DisplaySearch
That leaves ARM with more than 95 per cent of the market.
According to DisplaySearch's forecast, the years through 2016 show even less market share held by x86 than it'll take in 2017. The architecture doesn't figure in the market at all until 2012.
Windows 8 fares better - just - growing from a sliver of market share in 2012 to 8.8 per cent in 2017. It's ahead of x86 because of Microsoft's already stated plan to release the OS on ARM processors too.
World Tablet PC Shipment Forecast by OS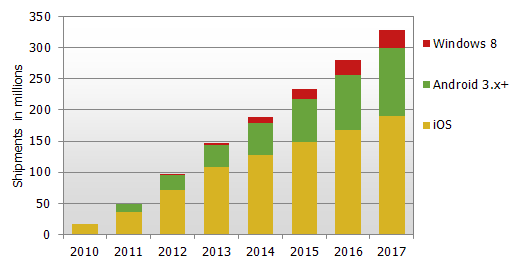 Values in millions of units
Source: DisplaySearch
Even by then, Apple's iOS will still be holding on to the top slot, accounting for 57.8 per cent of the tablets that ship in 2017.
Android's share of tablet shipments will have grown to 33.4 per cent by then.
DisplaySearch admitted that "not all tablet PC operating systems are represented" in its figures, but it's hard to see any others making a big difference to either Android's or iOS' share. And even Windows 8 would seem unlikely to be affected by RIM's QNX - the OS in its BlackBerry PlayBook tablet - or a sudden revival of HP's WebOS. ®
Sponsored: What next after Netezza?