Just seven solar cars reach Adelaide alive
Remaining 30 competitors call the tow truck
WSC The provisional* results of the World Solar Challenge show that just seven of the 37 solar cars competing drove the entire 2,998 kilometres from Darwin to Adelaide under their own steam and by Saturday's deadline.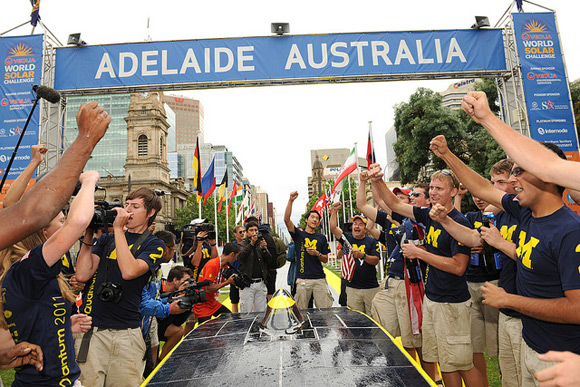 The top three finishers Tokai University, Nuon Solar Team and the University of Michigan (pictured) - who whizzed over the finish line on Thursday - largely avoided the bad weather on the approaches to Adelaide which doubtless affected the following pack.
Ashiya University secured fourth place on Friday, beating the Netherlands' Solar Team Twente by just seven minutes. In a hot battle for six and seventh slots on Saturday, Oz competitors Sunswift UNSW Solar Team and Aurora passed the chequered flag similarly separated by a mere seven minutes.
SOCRAT Istanbul University, Solar Energy Racers of Switzerland and Taiwan's Apollo Solar Car Team made up the top ten, having come tantalising close to completing the race. They clocked up 2735, 2663 and 2650 solar kilometres, respectively.
Here are the rest of the results:
Umicore Solar Team: 2636 solar km
Stanford Solar Car Team: 2418
Team Okinawa: 2408
Nanyang Technological University: 2283
SAITEM, Sakarya University Advanced Technologies: 2263
MIT Solar Electric Vehcile Team: 2222
Team Solar Philippines: 2111
Qazvin Islamic Azad University: 1891
University of Calgary: 1840
CalSol: 1809
Universidad de Chile: 1709
Onda Solare: 1751
Anadolu Solar Team: 1675
University of Toronto: 1661
Cambridge Uni Eco Racing: 1487
Hochshule Bochum Solar Car Team: 1454
Eclipse 7 Solarcar Team: 1415
Principia Solar Team: 1303
Seraaj Solar Car Team: 1269
Midnight Sun Solar Rayce Team: 1116
University of Tehran Solar Car Team: 826
Solar Spirit Australia: 801
Durham University: 552
Solaris: 301
UMP Solar: 229
Uniten Solar Ranger Team: 223
Green Maniac: 73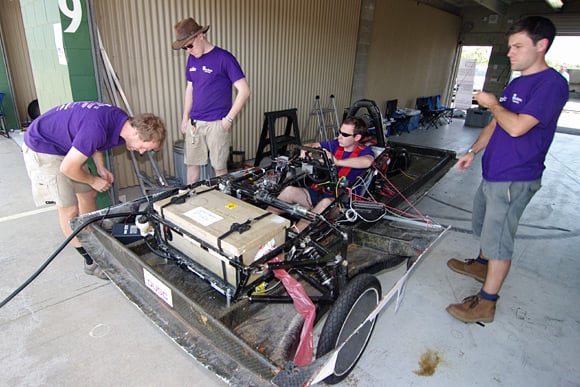 Judging by their position, Durham Uni (pictured) had a tough time of it, as did many other teams. Before the start they said they hoped they'd make Adelaide without having to deploy the trailer, but sadly this was not to be. ®
Bootnote
*Check the WSC website for more details on the teams and, as of sometime later this week, for the confirmed results.
We're obliged to the WSC for the nice picture above of Michigan at the ceremonial finish.
Sponsored: What next after Netezza?