VMware profits more than double in Q3
Looks like Microsoft, slurps cash like Microsoft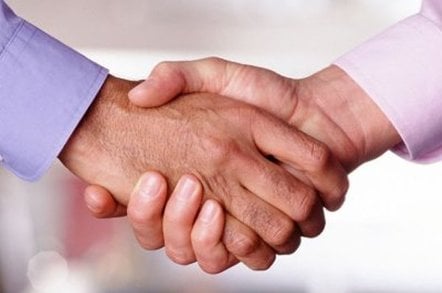 Server virtualization and soon-to-be cloud juggernaut VMware continues to steamroll over its virtualization rivals and bankroll revenue growth and stunning profit growth this year.
In the third quarter ended in September, VMware posted sales of $941.9m (£597.9m), up 31.9 per cent from the year ago period. Software licence sales, which are dominated by its vSphere server virtualization suite, rose 29.2 per cent to $443.6m (£281.5m), while services sales were up even more at 34.3 per cent, to $498.2m (£316.2m).
And because the cost of software licence sales was dead flat year-on-year – that's why you love being in the software biz – and R&D costs did not even come close to keeping pace with revenue growth, VMware was able to bring $177.5m (£112.6m) to the bottom line, more than twice the earnings it booked this time last year.
VMware exited the quarter with $1.55bn (£983.9m) in cash and equivalents and $2.43bn (£1.54bn) in short-term investments; it owes a note to parent company EMC, but it could cut that cheque tomorrow if it wanted to.
With these kind of numbers, VMware is exceedingly hard to beat and, not surprisingly given the Microsofties now running the company, VMware's finances will bring a certain amount of deju vu to Redmond investors who remember when Microsoft grew like this and could bring in such profits relative to sales. (Microsoft still makes a hell of a lot more money and profits, of course, in terms of absolute numbers.)
VMware doesn't break any of its financials down by product line, but given its size, it is probably a good idea if VMware doesn't want to look like a one-trick ESXi pony.
Season's greetings
Mark Peek, VMware's CFO, said in a conference call with Wall Street analysts after the markets closed that VMware had "strong demand" in the Asia/Pacific region during Q3 and "seasonal strength" in its business with the US Federal government. Peek said that average selling prices for vSphere stacks was up a bit thanks to "good discounting discipline" and a higher mix of Enterprise and Enterprise Plus licence sales. Of the software licence revenues generated in the quarter, 22 per cent came from enterprise licence agreements, and two deals brought in more than $10m a pop.
Within the services revenues, $97m (£61.5m) came from professional services, up 26 per cent, while software maintenance and support accounted for $427m (£271m), up 36 per cent, with customers on average buying support contracts in excess of two years when they acquire a VMware license.
Peek said that VMware expected fourth quarter revenues to be between $1.03bn and $1.06bn (£672.8m), which represents somewhere between 23 and 27 per cent growth year-on-year. Licence revenues are expected to grow around 20 per cent. He also provided some guidance for the first quarter of next year, saying sales should fall between $1bn and $1.03bn (which is 18 to 22 per cent growth over Q1 2011), and he cautioned Wall Street not to start engaging in irrational exuberance.
"Given the strength of our 2011 results, 2012 will be a difficult compare," Peek warned. "There is growing uncertainty in the global macro condition and an expectation of lower growth rates for both IT spending and server shipments relative to 2011."
That said, Peek said that VMware did not think customers were spending now in anticipation that budgets would be cut, but said the company has seen a little more caution and customers sometimes requiring higher levels of approval in their companies to get deals done.
Some of that delay might have had something to do with the vRAM-based pricing on vSphere 5.0, too. Paul Maritz, VMware's president and CEO, said in the call that the VMware field sales force is telling him that pricing is not the critical issue it was earlier in the year. So the changes VMware implemented seemed to have calmed people down somewhat. ®