Ubuntu's Oneiric Ocelot: Nice, but necessary?
Behind Unity's polish
Center of excellence
Among the other, smaller visual changes in the Unity desktop is the new icon for the "shutdown" menu. Canonical's designers have added a small gear icon to the traditional shutdown icon in an attempt, it seems, to give you a hint that in fact the shutdown menu isn't just a shutdown menu. It manages to get the idea across, but doesn't really help the muddled menu beneath it which still can't decide exactly what it wants to be - just a shutdown menu, or something more.
Canonical's Software Center continues to be improved. Software Center has a new "Top Rated" view on the main page that makes use of the social rating features introduced in the last update. This time around it's also much faster thanks to the new GTK 3 backend. Of course it still lacks some of the features found in Synaptic, including the ability to install a specific version of a package. And note that, as of 11.10, Synaptic is no longer installed by default.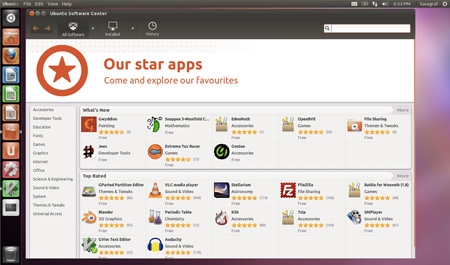 Top notch: the Ubuntu Software Center is faster and shows best-rated apps
On the plus side, the Software Center now supports OneConf, which uses Ubuntu One to sync applications across your machines. Of course to use OneConf you'll need to have an Ubuntu One account set up.
As usual the Canonical developers couldn't get a new version of Ubuntu out without shuffling around some of the default applications that ship with Ubuntu. This time around the big news is Evolution, which has been dethroned as the default mail client and replaced with Mozilla's Thunderbird.
Thunderbird works just fine as an Evolution replacement provided you only used Evolution for email. In fact, Thunderbird is in many ways much nicer than Evolution, but there's no denying that it's missing a calendar. You can install Lightning, a calendar plug-in for Thunderbird, but considering the migration effort for long-time Evolution users it's probably just easier to skip Thunderbird and simply install Evolution.
Ubuntu 11.10 also sheds a few other things from its past, more notably GNOME 2.x. In the previous release if you didn't like Unity or GNOME 3 you could always revert to the GNOME 2.x look. It wasn't perfect since a few things had already been replaced by GNOME 3 components, but it did, by and large, work.
Going, going... GNOME
Those days are over. The option to revert to the GNOME 2.x desktop is now gone. Since 11.10 completes the under the hood upgrade to GNOME 3.0, there is no GNOME 2.x to revert to anymore. As I said in my review of the beta, Unity is here and Canonical's stance is that you're either going to love it or leave it.
If you hate Unity, but want to stick with Ubuntu you can of course use GNOME 3 instead. You'll need to install a few packages, but setting up GNOME 3 for Ubuntu isn't too difficult. If all else fails you can always jump ship to the XFCE desktop, which now counts Linus himself as user.
The truth is Ubuntu 11.10 is a huge improvement over 11.04. Unity is much improved and the often downright terrible performance issues in 11.04 have dramatically improved. If you're OK with Unity then by all means upgrade. If, on the other hand, you're more cautious and want to give Unity more time before you abandon good-old GNOME 2 and Ubuntu 10.10, well, there's no reason to rush.
Those sticking with Ubuntu 10.10 still have six more months of support, which means six more months for Canonical to improve Unity. Unless you have some clear need to upgrade, I suggest riding it out for now. ®
Sponsored: Detecting cyber attacks as a small to medium business