The exaggerated "death of text"
How much is already free?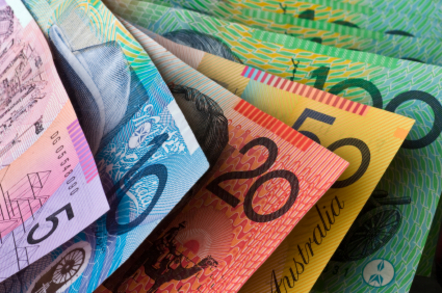 It's time to put to bed the idea that SMS costs millions per Gigabyte – a game I have played in the past, along with many others – now that every major mobile carrier in Australia has plans with text allowances stretching all the way up to "unlimited".
This week has seen a burst of stories proclaiming the death of SMS – in Australia, volumes only grew by five percent last year – in the face of various free messaging applications available for iOS and Android users.
Prep the intensive care unit and fetch the defibrillator, nurse! SMS is nearly dead! The LA Times says so, the Sydney Morning Herald says so, even The Economist says so.
Each and every outlet attributes the slow growth to the emergence of applications that have only existed for a relatively short time – and that's where they miss-step, because in Australia at least, text growth has been flattening for some years.
(My comments below are specific to Australia. I don't know the details of mobile plans for other countries; if Australia is somehow different to the US or the UK, then my comments won't apply.)
The chart accompanying this story shows Telstra SMS growth since the 2004-2005 financial year. I have picked on Telstra not because it's the largest carrier in the country, but because it publishes the best data; a reckoning of Optus and Vodafone/Hutchison SMS volumes would involve too much guesswork.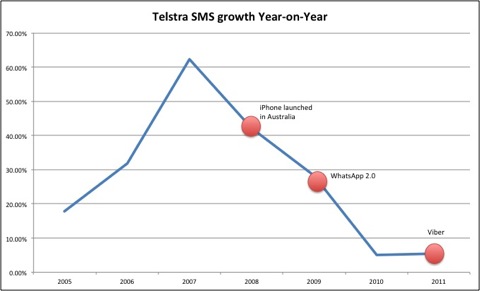 The peak happened in 2007 – even before Aussies first started fondling iPhones.
I'd guess the curve relates to the evolution of bundles. Carriers decided that SMS was more valuable as a plan differentiator than as a revenue stream in its own right, and as they ramped up the number of free SMSs included with the plans, customers started sending more messages.
In that interpretation – which I don't pretend is the whole story, just a working hypothesis – the slowing growth reflects customers approaching a new equilibrium in which SMS usage is constrained not by the old "25 cents per message" paradigm, but by how many messages they want to send.
What of the notion that slower SMS growth is a financial disaster for the carriers?
While not everybody is buying "infinite text within Australia" plans, it's hard to buy a mobile plan that doesn't have some amount of free SMS as an inclusion. A significant proportion of the texts sent over Australian networks now – pick a figure that suits you – is already free, not the 25 cents you only pay after you reach your bundle allowance.
Driven by competitive pressure, Australia's mobile carriers are already rebalancing their revenue away from an over-reliance on "billable events" (like calls and text; calls within Australia also figure heavily among free inclusions) into a simpler annuity revenue.
What kind of user figures most heavily in the "unlimited text" type of plan? That needs no heavy deliberation: someone who sends lots of text messages will gravitate to plans that give them no nasty surprises.
Having those users switch their habits from SMS to a free messaging app on iOS or Android involves no pain for the carrier whatever: they stop using one free service and start using another. The revenue impact is zero – except where the app replaces an expensive international SMS (it's just as likely that people sending international messages on an app are sending messages that they wouldn't have bothered with on SMS).
Meanwhile, the kind of user that still pays to text probably isn't the iPhone or Android customer. People who buy advanced devices and go on the app-hunt don't sound like the unsophisticated punter who buys a phone with minimal smarts on the cheapest plan available.
In assessing flattening text growth as a financial crisis for carriers, analysts and reporters are embedding a third assumption, perhaps their most profound mistake. They are treating carriers as passive players who cannot and will not act to protect their revenues and maintain their margins.
I've seen "death of carrier" articles for at least 15 years now; always, analysts fastened onto a new technology that attacked one revenue stream or another as proof that carriers would not and could not respond. Each time, at least in Australia, the businesses have responded. Sometimes it's taken a shock to draw a response; at other times, the carriers spotted the trend before the rest of us and were prepared; at still other times, the carriers themselves were in the driver's seat, creating the new product and engineering their customers towards it. ®
Sponsored: Detecting cyber attacks as a small to medium business