BBC One and bureaucracy spared in Auntie cuts
2,000 Beebsters face axe in £700m savings plan
The BBC has safeguarded Radio 4 and BBC One from moves to slash £700m from its £5bn annual budget, but it will axe a further 2,000 jobs.
Director General Mark Thompson made good on his pledge not to ditch any specific services – but BBC supporters and critics alike will be disappointed that the top-heavy bureaucracy isn't being radically restructured. Without that reform, talent will be lost – especially at World Service. The additional redundancies were announced today.
The licence fee settlement agreed late last year froze the telly tax, the revenue device that provides the BBC with most of its income. This effectively means a 16 per cent funding cut. The Corporation also took on the historically unique BBC World Service, which was previously funded by the Foreign Office.
More than a fifth of the population never watches BBC One, a rising proportion, yet the channel swallows an astronomical £1.4bn, more than a third of the £3.4bn licence fee. The beast has been spared going on a diet: with just 3 per cent cuts. Instead, the axe falls on BBC2 daytime output (BBC2 will be all repeats now during the day), while the sport department will lose 15 per cent of its budget, and foreign drama acquisitions will be curbed.
Radio 4's relatively paltry £109m budget is protected, in real terms, as cuts will be made to live music events and other radio channels. Arguably the popular Radio 2, which produces high quality documentaries and features, fulfills the Reithian mission far more effectively than the old Home Service.
Cuts to the BBC's online output were announced at the start of the year, and haven't been amended.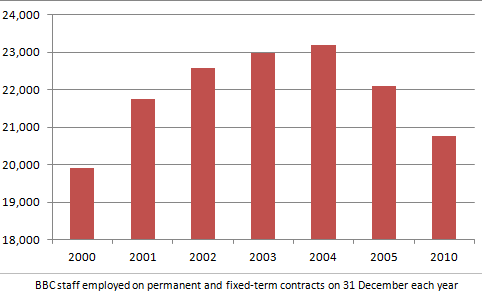 2001 was a very good year for Beeboid recruitment. Source: FOIA
At least another thousand staff will move to new facilities in Salford, which has already cost the corporation £1bn. The inexplicable budget channel BBC3 (suggestions for other names welcome) will also be heading north, where rumour has it the BBC TV overlord – Jana Bennett – was overheard asking:
Can I be terribly London and have a cappuccino?
"It should still be possible to run an outstanding broadcaster on £3.5bn a year," said BBC Trust chairman Chris Patten.
Actually, it's almost £4.5bn, quite a bit more when you add in BBC WorldWide, which licenses global hits like Top Gear and includes publishing and merchandising. Arguably, that should be much more – the margins are embarrassingly low – but historically the BBC is skilled at extracting settlements from government, rather than commercial inventiveness. ®
Bootnote
For the BBC's accounts, start here; a list of finance and employment related FOIA requests received throughout the year can be found here.