Symantec fends off VMware for data centre throne
Virtualisation and clouds targeted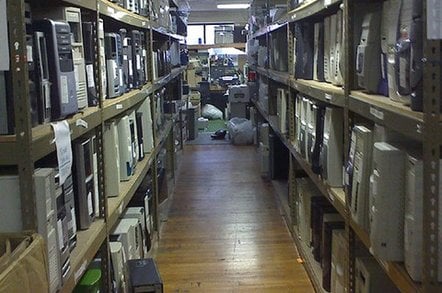 Symantec Vision Symantec is fortifying its Storage and Availability Management software (SAMG) for the virtualised cloud world with the release of version 6.
The company is pushing its multi-vendor credentials and aims to bolster its software's role in security, availability and storage management in data centres. However, it faces two challenges: incoming competition from VMware and expanding storage array controller functionality. With this latest SAMG revision, Symantec is saying you can create a non-trivial cloud service using the infrastructure you already have.
The products updated in the SAMG 6 launch are:
Veritas Storage Foundation 6.0
Veritas Cluster Server 6.0
Veritas Operations Manager 4.1
Symantec ApplicationHA 6.0
Veritas Dynamic Multi-Pathing 6.0
Veritas Cluster File System 6.0
Veritas Replicator 6.0
Symantec VirtualStore 6.0
Veritas Storage Foundation for Windows 6.0
Veritas Storage Foundation for Oracle RAC 6.0
Veritas Storage Foundation for Sybase ACE 6.0
Veritas Operations Manager 4.1 breaks the 6.0 nomenclature; that's odd, maybe there's more to come there.
The upgraded software should cope a lot better with multi-tiered applications that provide a business service, and ensure the protection and availability of virtual business services (VBS). This should be possible across different operating systems and virtualisation regimes, with a VBS encapsulating a multi-tier business app set up as a single entity:
Administrators can expect to orchestrate the start, stop, non-disruptive testing, and failover of entire multi-tier applications with a single click.
Symantec says that, operating in this way, it can help its customers meet cloud service level agreements (SLAs) as they deploy private, hybrid and public clouds. With Veritas Operations Manager and Veritas Cluster Server installations, customers are promised a view of availability and disaster recovery status across the data centre from a single monitor.
In other words Symantec is staking a claim to be the data centre's operations management resource and not ceding that role to upstart VMware.
The Veritas Storage Foundation (VSF) suite is intended to operate across a multi-vendor environment, to grow and shrink provisioned storage in real time, optimise the use of array capacity, and enable multi-vendor storage choice. VSF has support for "thin reclamation, storage tiering, dynamic resizing, and smart migration".
Storage Foundation 6.0 is planned to support deduplication and compression at the file system layer. We don't know if it will move to block storage as well. Symantec says: "The Veritas Storage Foundation suite includes Veritas Dynamic Multi-Pathing, Veritas Cluster File System, and Symantec VirtualStore, with support for all major storage arrays and operating system platforms."
In a way Storage Foundation is an enabler of commoditised storage and Symantec is pushing the message that what enterpriser array controller software does it can do with ordinary arrays.
Symantec is staking a claim to be the data centre's operations management resource and not ceding that role to upstart VMware.
The v6.0 software introduces a new pay-for-what-you-use pricing model.
The hall for the keynote session announcing this stuff was filled with happy, smiling people, and why not? They'd paid their attendance fee and got news of a comprehensive, across the board software update helping them carry on doing what they are already doing: resisting the siren songs of single-source vendors like VMware, EMC and NetApp.
There was good news on the security front too with a raft of announcements. One highlight was the unveiling of application reputation management. This involves a database of some 3.1 billion applications. If you sign up for this and your system tries to run an app that's not in the database then it's suggested to you that you don't run it.
We're thinking of this as a quasi-industry-wide whitelist facility. CEO Enrique Salem was pretty pleased with the idea. So was his audience, and Symantec's reputation went up a notch as a result. ®