EMC was in the house at Oracle's OpenWorld extravaganza in San Francisco on Monday, with not-quite-yet-retiring CEO Joe Tucci playing elder statesman with his 42 years in this racket, and talking a bit about clouds and the storage and virtualization giant's use of Oracle software to run the EMC business.
Tucci started out by saying that EMC and Oracle had over 70,000 common customers, which is a sizeable percentage of the 380,000-strong Oracle customer base. And one of those shared accounts happens to be EMC itself. "We use Oracle internally, and we are proud of that," Tucci said.
El Reg wonders about the health effects of applying Oracle internally. But let's move on...
Being in the IT business since the time when mainframes were the hot new data processing technology, Tucci said he had seen his share of changes, and joked that IT was actually short for "Industry in Transition." The Oracle OpenWorld crowd was a rough – and perhaps hungover – one, and refrained from laughing at Tucci's witticisms.
"The one thing I can tell you for sure is that these waves have created massive disruptions, they have also created massive opportunities," said Tucci, assuring the assembled multitudes that they have chosen the right career path.
That said, Tucci called the IT industry onto the carpet – a red one, of course, this being an Oracle event – and chastised it because 73 per cent of IT budgets are going to maintaining existing systems, and only 27 per cent is left over to do new and, presumably, more fun and valuable things.
Perhaps it is a flaw in our thinking that keeping the systems at the heart of our businesses operating is a problem, but that is a comment piece for another day. Tucci's comment, though, was direct: "As an industry, we have failed. And we need to change this."
One of the big problems the IT industry faces, he said, is that the need for more IT infrastructure is growing at a compound annual growth rate of more than 50 per cent over the next few years, but we are only adding people at a rate of 4 per cent.
And, of course, the answer to all problems is the cloud.
EMC is in the midst of a transition to a "private cloud," meaning a virtualized infrastructure running its applications. Specifically, EMC is moving to x86-based servers – Vblock machinery made in conjunction with server partner Cisco Systems and virtualization minion VMware – to run its internal Oracle ERP and CRM systems and their related databases.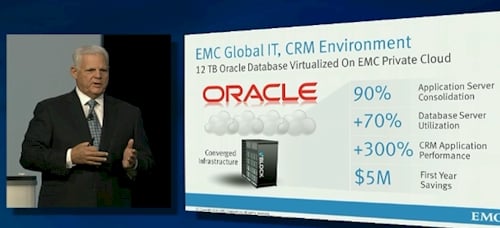 For example, EMC has moved a 12TB Oracle 11g database that is behind its CRM system onto Vblocks running VMware's ESXi hypervisor, reduced the number of servers by a factor of ten, and driven up database server utilization to 70 per cent of CPU while at the same time increasing the performance of the CRM application by 300 per cent and saving $5m in the first year.
Pat Gelsinger, the former Intel chipper and now president of EMC's Information Infrastructure Products division, took the stage after Tucci and said that EMC was in the process of virtualizing its Oracle applications and databases, and had already successfully moved over about 40 per cent of the workloads. By the end of next year, EMC's Oracle stack will be completely virtualized on VMware.
That's a slightly higher rate of virtualization penetration for Oracle environments worldwide, which Gelsinger said are now virtualized in about 25 per cent of cases.
EMC is still a storage company, and even with a former Intel chip designer in charge of its Information Infrastructure Products division, the company had to talk a bit about storage. Gelsinger said that EMC was working on beefing up its Symmetrix VMAX arrays so they can support the storage needs of 5 million virtual machines.
Gelsinger reiterated that VMware wanted to be able to run ESXi virtual machines on the controllers in its storage as well as having its external storage arrays take control of flash-based storage devices inside of servers. EMC calls this Fully Automated Storage Tiering, or FAST. ®
Sponsored: Practical tips for Office 365 tenant-to-tenant migration